I don't know about you, but in my daily travels, I come across a lot of people who merit a savage dressing-down. Most of the time, I'm up to the task, believe you me. But on occasion, the wit well runs a bit dry. And nothing's more embarrassing than facing down someone in need of a well-crafted insult with nothing more than an "Oh, yeah?" or a "Same to you, buddy" in your arsenal.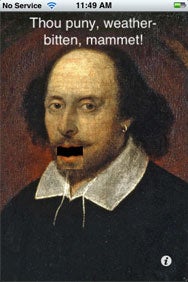 But why struggle to come up with appropriate insults when William Shakespeare has done all the work for you? That's the idea behind Official Shakespeare Audio Insulter from CHS Systems.
The $1 app is an iPhone spin on the Shakespearean insult generators you'll find on the Internet. This app's distinguish feature: the insults take on spoken form. Just touch the picture of The Bard and stand back as he denounces you as a goatish, weather-bitten clotpole (in an accent that clearly did not originate in Stratford-on-Avon). Because of the audio aspect, the Insulter app works best on iPhones and second-generation iPod touches; the developer says first-generation iPod touch owners will need a pair of headphones to hear Shakespeare's timeless words of abuse.
Other new iPhone apps that should interest even the most pestilent congregation of vapours include:
Read more…
Got an app you've just released to the App Store? Drop us a line.