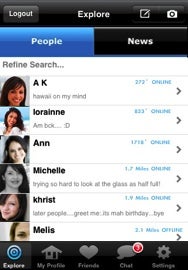 The dating world is tough. I hear. You know, from, er, people. On the street. It hasn't really gotten any easier with all the addition of technology, either: Google, text messaging, Facebook—they all just add complexity to the world of interpersonal relationships.
But, of course, there are attempts to use all the benefits of humanity's advanced technology to cut through the noise and help you find people with whom you might be compatible. Skout is one such venture; it's an Internet-based dating service that helps you in your search for finding that special someone—even if it's somebody who, like you, detests the phrase "special someone."
While it's available on the Web, both in desktop and mobile-oriented flavors, Skout has also released a free iPhone application that it bills as the first dating program on the platform. It takes advantage of the iPhone's location services to let you to browse lists of singles in your area and view their profiles. You can also use the program to share pictures and view others' photos (leaving comments, if you so choose), or even to initiate real-time chats with potential suitors.
Of course, technology really only helps broaden your opportunities—your iPhone might be able to help you find somebody, but it can't go on the date for you. Well, not yet, at any rate.
Now, if only there were an application to help compatible iPhones find true love with each other. That would be something to marvel at.