Spore, Maxis's ambitious evolution simulator, is getting its first major expansion pack. Like its predecessor, Spore: Galactic Adventures is coming to the Mac and PC, and it'll be released on the same disc.
While the recently released Creepy and Cute booster pack was an aesthetic upgrade focused on the early stages of the game, the Galactic Adventures expansion fundamentally expands the Spore gameplay by opening the epic space stage of the game. For the first time in the Spore universe, Galactic Adventures gives players the tools to play and create adventures on customizable planets.
Spore is sometimes maligned for being too family-friendly and leaving dedicated gamers wanting. But the adventure tools may change all that. In seconds, a player can create an interesting scenario to complete. The new tools you're given allow you to customize the planet, set the different creature's goals, awareness, weapons, allegiances, and health. You can include up to five acts with different events per mission, ensuring deep and varied experiences. There are also leader boards online so you know how well you did compared to other players. The tools are varied and intuitive, but can reward detail-oriented players who want to recreate famous scenes from sci-fi movies or just want to battle a thirty-foot space llama with their team of frogmen.
During the demo I got to witness a creature beamed down to a planet and tasked with certain goals (like blowing up buildings, meeting a planet's leader, or protecting some allies). The action plays out like a more advanced version of the creature stage except with sci-fi weapons and an interactive world. You can choose the path for your space creature such as warrior, bard, healer, etc. If you have a fleet of ships orbiting a planet and want to engage in diplomatic relations, for example, you'll send down a creature with good negotiating skills rather than your creature equipped with missile launchers and jetpacks. By completing missions, you can unlock new accessories like weapons, charms, and gear.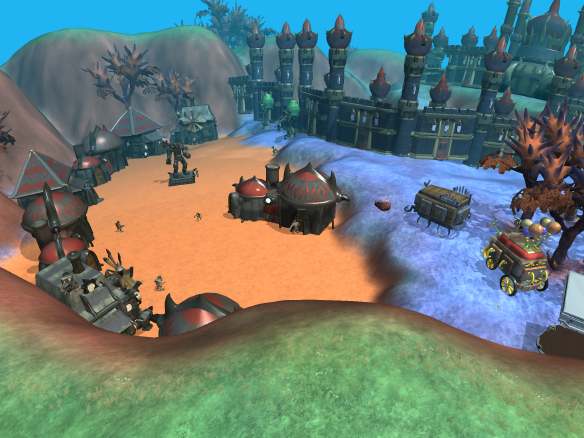 One thing the original Spore definitely got right was the ability to create and customize the world around you. The Spore Galactic Adventures expansion looks to further the sandbox theme with the ability to create missions and adventures. Like in the original Spore, you can share your created content with the world and download your friends' missions and adventures.
Galactic Adventures will be available for Mac at a yet-to-be-determined date.