In the beginning—that is, 1984—a Mac could store 400K on a painfully slow 3.5-inch floppy disk. Today, your MobileMe membership provides you with 20GB of combined e-mail and file storage space—that's 50,000 times as much—up in "the cloud," swiftly accessible by Macs and PCs, iPhones, and iPod touches anywhere with a data connection.
Connections
We now have USB 2.0, FireWire 400, and (on many systems) FireWire 800, as well as fast internal Serial ATA (SATA) connections for hard drives. Soon to join the mass-market storage-connection party is USB 3.0; scheduled to arrive in late 2009 or early 2010, it packs a theoretical top speed of 600 MBps. FireWire 800, in comparison, maxes out at 100 MBps (but despite the FireWire community's emerging standards for FireWire 1600 and 3200, and plans for a future 1250-MBps version, neither Apple nor storage vendors are biting). External SATA (eSATA) currently tops out at 300 MBps, although a 600-MBps version is in the works.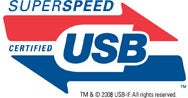 USB 3.0 will have nine times the power-supplying capability of USB 2.0, and it will be backward-compatible with earlier USB devices, even though its cables are noticeably chunkier (USB 3.0 requires five more wires than earlier versions). If USB 3.0—also known by the marketing moniker of SuperSpeed USB—is broadly adopted by the PC industry, FireWire will sink even further into irrelevance.
Wireless USB devices are also beginning to appear. At up to 10 feet, they're about as fast as your current Mac's USB 2.0 ports; at up to 30 feet, they're about 25 percent as fast. Wireless USB won't replace high-speed cables, but it'll be a welcome addition to flash drives, media players, smart phones, and more.
In the short run, eSATA will continue to take over the midrange market, and the high ground will be occupied by Fibre Channel and others (one being SAS, available on Mac Pros and the serial version of the venerable SCSI, the Mac's first—and notoriously finicky—storage connection).
Up in the rarified air of professional content creation and media-distribution systems, intelligent switched fabric links such as InfiniBand will connect tomorrow's pro Macs with top-speed storage systems that may consist of components that comply with the Intel-supported Storage Bridge Bay (SSB) standard.
Devices
In addition to these changes in storage connections, there are big changes for storage devices on the horizon. Since the first disk drive—IBM's one-ton, 50-disk, five-megabyte RAMAC—random-access storage has required spinning stuff: hard-drive platters, floppy disks, or optical media. Those days are ending with the rapid rise of a new class of solid-state drives (SSDs), which are more rugged than hard drives and can potentially consume less power. Here's the topper, though: top-notch SSDs should be faster than any spinning disk.
Intel, for example, recently announced two families of SSDs, one designed for consumer use and one for high-end data-center use. The first employs what's called multi-level cell (MLC) technology; the second, single-level cells (SLC). MLC SSDs are less expensive and slower than SLC SSDs—Intel's first commercial MLC drive, the 80GB X-25M, sells for around $600. (Keep in mind that ten years ago a 9GB hard drive cost about $2,000, and the X-25M should outperform today's snappiest hard drives when reading files. It also has faster specs than drives from SSD manufacturers such as Samsung and Toshiba.) Unfortunately, the 128GB SSDs that Apple offers as options for MacBooks aren't from Intel—that company doesn't make a 128GB SSD.
The days of our old friend the hard drive aren't numbered—its performance, speed, and reliability will continue to improve, and its cost-per-gigabyte advantage will be tremendous for the foreseeable future—but it's about to share the stage with hot new SSDs.
[Rik Myslewski has been writing about the Mac since 1989. He has been editor in chief of MacAddict (now Mac|Life), executive editor of MacUser and director of MacUser Labs, and executive producer of Macworld Live. He now writes for The Register.]