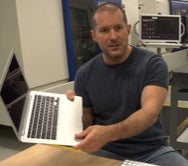 Apple's design facilities are one of those rareified places that the average person has little hope of ever seeing—kind of like Area 51, former Vice President Cheney's famous "undisclosed location," or the rolling ice planes of Jupiter's moon Europa. All rolled into one.
But a new documentary about industrial design, Objectified, gets a peek into the heart of Apple's success and an interview with the main man himself, Apple SVP for industrial design and pin-up Jonathan Ive. Director Gary Hustwit (who previously made the much touted fontumentary Helvetica) wrote on the film's blog:
I felt like Charlie in Willy Wonka and the Chocolate Factory, except everything was made of shiny aluminum instead of candy. And there were no oompa loompas.
Gary, that's merely because they hid the oompa loompas from you. It's all part of Apple's secret sauce. Also, little known fact: the new MacBooks' aluminum unibody is merely foil-wrapped chocolate. And they are delicious.
Objectified will premiere in March at the South by Southwest Film Festival in Austin, followed by screenings in several major cities. If that doesn't whet your appetite, you can check out the trailer, which itself features the sound of Ive's soothing tones.
[via Infinite Loop]