The ranks of iPhone client apps for the Craigslist online classified service grew a little larger this week, as CraigsPal made its App Store debut.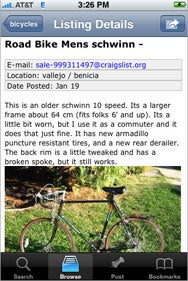 The $1 app from Visceral Labs offers iPhone and iPod touch users the ability to search or browse through the classifieds at Craigslist. Users can bookmark their favorite searches to refer to later as well as e-mail listings to others. CraigsPal also lets you post your own ads, with the ability to insert pictures you've taken with the iPhone's built-in camera. Tap a phone number in a Craigslist listing, and the iPhone will dial the number; address links will take you to the device's Maps feature.
CraigsPal joins a growing number of apps that interface with Craigslist, including the $2 CraigsMobileList and the free Craigsphone and CraigSearch offerings.
Update at 9:05 a.m. on January 24: Visceral Labs just dropped me a line to tell me that the CraigsPal name has been changed to Craigster, owing to the fact that someone else had already trademarked the CraigsPal name. On the bright side, this may well be a record for Fastest iPhone App Name Change that will never be topped in our lifetime.
Other apps of interest that were recently added to the App Store include:
Read more…
Got an app you've just released to the App Store? Drop us a line.