(Editor's note: This story was updated on 1/23 at 4:10 p.m. after receiving clarfication from Apple that the adapter in question is intended to work with 30-inch displays other than Apple's.)
Owners of the latest MacBook, MacBook Pro, and MacBook Air models can connect their laptops to 30-inch displays using Apple's $99 Mini DisplayPort to Dual Link DVI Adapter. However, some users have been reporting problems with the new adapter, ranging from screen artifacts to completely blank displays.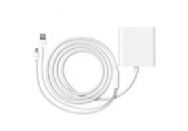 Some of those reporting problems are connecting the adapter to third-party displays from Dell and Samsung, and have posted that Apple tech support told them that only Apple's 30-inch Cinema Display HD was supported by the adapter.
However, according to an Apple spokesperson, the adapters are intended to be used with displays other than Apple's.
"Customers can use the Mini DisplayPort to Dual Link DVI Adapter to connect their MacBook, MacBook Pro, or MacBook Air to a 30-inch display that includes a DVI connector," the Apple spokeperson told Macworld via an e-mail. "This includes third-party 30-inch displays, and of course, Apple's 30-inch Cinema Display HD."
Part of the confusion may stem from Apple's own product page for the adapter. The description at the top reads ""The Mini DisplayPort to Dual-Link DVI Adapter lets you connect the 30-inch Apple Cinema Display HD to a MacBook, MacBook Pro, or MacBook Air with a Mini DisplayPort," while the overview further down says that you can connect the adapter "to a 30-inch display that includes a DVI connector, such as the 30-inch Apple Cinema Display HD."