William Shakespeare wrote 37 plays containing 20,000 to 30,000 words, depending on who's doing the counting. Some of the words are evocative, some form turns of phrase still in use today, and many, many others can be strung together into a series of vile insults—at least if the voluminous torrent of abuse in Official Shakespearean Audio Insulter is anything to go by.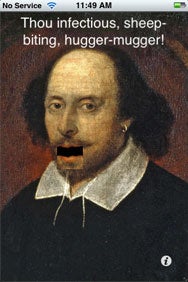 The $1 app from CHS Systems is a mobile version of the Shakespearean insult generators you'll find on the Web. (This version was inspired by high school teacher Jerry Maguire.) CHS's take employs audio—tap or shake the picture of Shakespeare, and the Bard will rattle off a randomly-generated insult, calling you a "bootless, rude-growing mumble-news," for example or a "lumpish, tickle-brained dewberry."
CHS's Insulter is an amusing enough diversion, especially if you get a kick out of having your iPhone or iPod touch berate friends and associates for being mangled, sheep-biting lewdsters. But the amusement can grow pretty thin quickly—it'd be better if the insults were delivered with more of a vocal flourish than with the relatively flat intonation that the app uses. (This is Shakespeare, guys.) And while the Insulter mixes and matches words from different plays, it would definitely add to the app's value if you knew from which plays insults like "canker-blossom" and "puttock" originated.
Still, Official Shakespearean Audio Insulter is an entertaining little app. Only a spleeny, fly-bitten minnow would claim otherwise.
Official Shakespearean Audio Insulter is compatible with any iPhone or second-generation iPod touch running the iPhone 2.2 software update.
[Macworld.com executive editor Philip Michaels is a jarring, earth-vexing branacle, apparently.]