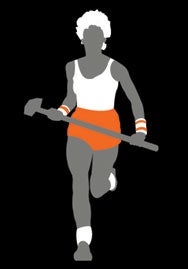 We've been celebrating the Mac's anniversary all week long, at Macworld.com—no, really, we have the Mac at 25 home page to prove it—but words alone may not be enough to mark such a momentous occasion. Something like a silver anniversary calls out for a t-shirt.
If that's your state of mind, anyway, FastMac has you covered. The retailer of batteries, CPU upgrades, optical drives, and assorted Mac accessories also has an array of apparel offerings. And as part of Saturday's 25th anniversary festivities, FastMac is offering a trio of anniversary-themed shirts.
The first shirt features a silhouette of a female runner—any similarity between the logo and the star of Apple's iconic "1984" ad is purely intentional—while other designs feature Apple and Mac logos made up of the names of all the hardware Apple's released over the years. Prices appear to be rolled back to 1984 levels as well—FastMac is charging $5.25 for each shirt.