As we've seen in this week's spate of the Mac at 25 coverage, plenty has changed with the Mac platform since 1984. The same could be same of gaming for the Mac.
The first game I played on my Mac was a Missile Command homage called Ground Zero, from a company called mindSports. Like all Mac games at the time, it featured bitmapped, black and white graphics optimized for the tiny Mac screen, and it was a Mac original. Dark Castle, the platform action game, El Gato, a World War II sub simulator and many other games would follow in the next few years.
As Mac users increasingly turned first to dial-up bulletin board systems and then to the Internet itself for communication and entertainment, a burgeoning shareware market spurred the success of companies like Ambrosia Software, which produced—in the space of only a few years—a library of Mac classics, like Maelstrom (an Asteroids-style game) and Apeiron (a Centipede-style game). Color was added, sound improved, and other changes were made, but they were still, at their core, very similar to the games that had preceded them.
Myst, Cyan's legendary first-person adventure game, was a game-changer for so many reasons. It also was a Mac-first game, but it came on the then-nascent format of CD-ROM, and some critics still today say that Myst helped spur the format's success. One thing is beyond debate: Myst created an entire genre of adventure games that sported similar graphics and gameplay.
The next real major change in gaming came in 1998, when MacSoft shipped a Mac version of Unreal. Unreal was not the first conversion from PC to Mac, nor was it the first game to use 3-D graphics acceleration. But it was the first to require a Mac to have a 3-D graphics card installed, paving the way for the future of Mac gaming, in general. Now we have even basic, casual games making use of OpenGL graphics.
Blizzard's Warcraft games, StarCraft and World of Warcraft represent one of the more hopeful chapters in Mac gaming. Years ago, Blizzard Entertainment made the conscious decision to develop simultaneously for both Mac OS and Windows platforms, because its games had a high enough percentage of Mac users to make it worth the company's while. Since then, all of Blizzard's games have shipped simultaneously for both platforms. Blizzard is one of the very few companies to be so equal-handed in its treatment of both platforms, and it earned the undying loyalty of legions of Mac gamers as a result.
Probably the most recent twist in the constant evolution of Mac gaming has been the work of TransGaming, a company that first cut its teeth with a product called Cedega for Linux. Descended from the Wine project, Cedega lets Linux users run Windows games without having Windows installed, and TransGaming took what it learned from that project and turned it into Cider, which has become one of the most frequent ways that major commercial releases have come to the Macintosh. The only downside is that Cider is an Intel-only technology; this and other efforts to focus development on Intel Macs has helped to show the end of the road to the millions of PowerPC Macs out in the world.
Read more…
Earlier, we opened up the Game Room floor to John Siracusa who gave his list of the best Mac games of all time. John limited his countdown to five titles, so naturally, there's a few games that didn't make his list. I'd like to highlight them here.
Myst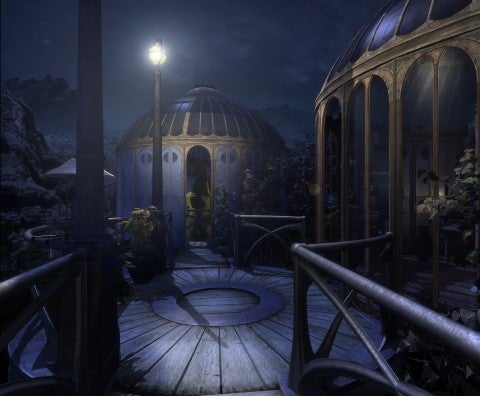 Adventure games had existed on personal computers virtually from the start, but one of the genre's most creative twists came in 1993 when Cyan released Myst. The game combined a detailed story line with beautiful pre-rendered graphics. You solve puzzles and follow clues, clicking through an interactive world on a non-violent journey. As noted above, Myst would set the tone of adventure games for years to come, and eventually would be ported to run on every platform under the sun—but it was Mac-first. Only fitting, since it was made on Macs too.
World of Warcraft
World of Warcraft, the most successful Massively Multiplayer Online Game (MMOG) of all time, is no exception to Blizzard's policy of simultaneously releasing games on different platforms. Set in the same land that has been featured in every other Warcraft game, this one lets players loose in an online world populated with other players and myriad monsters and characters to kill and interact with. Released late in 2004, it's more than four years and two major expansion packs later, and the game still shows no signs of slowing down or losing its dominance.
Myth: The Fallen Lords
Bungie made its mark on Mac gamers forever with Marathon, but it really primed the pump for more games with the release of Myth: The Fallen Lords. A real-time strategy game that focus on battle, not on resource management or other minutiae, Myth incorporated tactical elements (putting archers on high terrain, using dwarves to bomb the enemy from afar) and a gripping storyline. It would eventually spawn two sequels and cement Bungie's reputation as one of the best game developers around.
Solarian II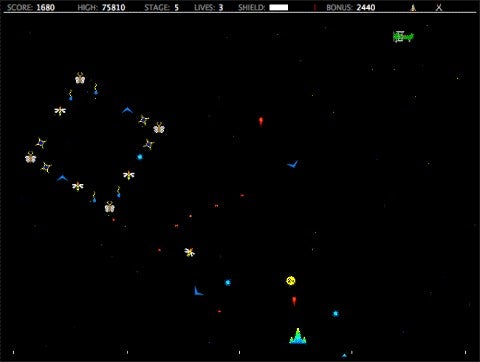 Some of the best Mac games are classic ideas reborn with a Mac twist. Solarian II from Ben Haller is just such a game: You're fighting swarms of alien spacecraft a la Galaxian or Space Invaders. They don't just descend one-by-one, or in columns, but fly about the screen in whirling, psychedelic patterns; odd bits like storks flying by and humorous sound effects only add to the charm. Solarian has been such a perennial hit with Mac gamers that Haller even resurrected it a few years ago for Mac OS X, rebuilding the game as a native Cocoa app.
Solitaire Till Dawn
There are certainly flashier solitaire games, and ones that are a lot funnier, but Solitaire Till Dawn earns a spot in our hearts for being the first solitaire game we ever fell in love with on the Mac. The game featured dozens of different variations on solitaire card games, cards with pretty, bit-mapped graphics and lots of features; it would go on to encompass 100 different solitaire games with customizable artwork and a list of features too long to go over here.
Spaceward Ho
Sure, nowadays games where you send out legions of spaceships to take over the universe are a dime a dozen. But Spaceward Ho came out at a time when such games were a novelty; even a rarity. Delta Tao's contribution to the turn-based strategy genre hinged on not taking things too seriously; as the name implied, Spaceward Ho had a western setting (complete with cowboy hats on occupied worlds).
Spectre
Back in the 1980s Atari's coin-op arcade hit Battlezone was a must-play for any self-respecting teenager, so it was little wonder that it would serve as fodder for computer games in later years. Spectre was Velocity Development's answer, circa 1991; a 3-D tank battle game torn straight from Battlezone's playbook. It was one of the first games to feature networking support, so if you were lucky enough to be connected to other players over AppleTalk you could go head-to-head. Which made Spectre a great after-hours distraction for many a harried development or support department at Mac-centric companies.
Don't confuse this list as complete—there have been a lot of other changes and landmark Mac games over the years. But even this cursory look back at the past quarter-century shows just how far Mac gaming has come and how much it's changed. If the next 25 years are even partly as interesting, it should be a very entertaining show.