Last week Apple quietly began selling a refreshed version of its entry-level MacBook with improved graphics. We're still working on getting a version of this updated MacBook into Macworld Lab for testing and review. But based on the revised specs of the laptop, this model appears to be a solid value for both gamers and Mac users on a budget.
The $999 MacBook is clad in a white polycarbonate chassis, a throwback to the previous-generation MacBook. It lacks the aluminum-clad "unibody" design of newer MacBooks, but it also is a lot easier on the wallet, priced at $300 less than the 2GHz version of its shinier cousin.
But what's under the hood is what counts the most. For the same price Apple charged a few weeks ago, the revamped low-end model incorporates twice the memory—2GB, versus 1GB—and dramatically better 3-D graphics performance than it did before. That's thanks to the adaptation of a motherboard design that features Nvidia GeForce 9400M graphics. It's still an integrated graphics chip, like the Intel GMA X3100 system in the previous-generation low-end MacBook, but it shares more memory with the system RAM than the Intel graphics did. And all of our tests on other Macs equipped with that graphics system conclude that the 9400M outperforms the Intel graphics system in every way. (Note that this MacBook now runs on a 2GHz Core 2 Duo processor; the previous low-end MacBook had a 2.1GHz chip.)
To me, this makes the value proposition of the low-end MacBook much more appealing than almost any other system that Apple sells. It's a computer that should handle all tasks reasonably well, with a graphics system now powerful enough to handle not only current games, but other 3-D applications and apps that utilize Apple's Core Graphics technology, without choking badly.
Read more…
There's another thing about the low-end MacBook that make it worth consideration, especially for Mac users who have already made an investment in some camcorders and external storage devices: It's the only MacBook in Apple's lineup that still has a FireWire port. The white MacBook features a FireWire 400 connector, making it compatible with myriad standard-definition camcorders, hard drives and other devices that have shipped since the late 1990s. It may not be a deciding factor for people who are only today considering buying a high-def camcorder, as most of them now use USB 2.0, but for Mac users on a tight upgrade budget, it's worth considering.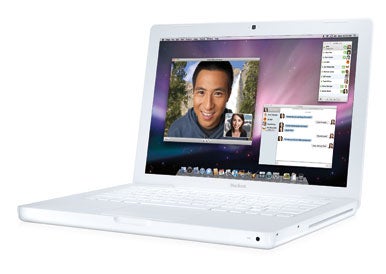 The white MacBook also features a mini-DVI jack, meaning that connecting it to a DVI or VGA-equipped display is markedly less expensive than having to buy the Mini DisplayPort adapter required for the aluminum MacBook. Apple sells the mini-DVI adapters for $19 each, while its Mini DisplayPort equivalents are priced at $29.
That's not to say that the $999 MacBook is hands-down a better value than the next step up the product line, the $1,299 MacBook. With both of those machines now sporting the same processor, there are some distinct differences that might make the aluminum MacBook worth considering.
The more expensive aluminum-clad MacBook features faster memory—1,066MHz DDR3 SDRAM, compared to 667MHz DDR2 SDRAM. It also has a hard disk drive that's one-third larger than the drive on the $999 model—160GB, versus 120GB. You also have the option of getting a Solid State Disk (SSD) drive on the aluminum MacBook, something you can't buy for the $999 model. And that Mini DisplayPort interface is compatible with Apple's new 24-inch LED Cinema Display, which won't work with the white MacBook.
Apple doesn't do much to its product line out of pure altruism, near as I can tell, and despite protestations from consumers when the new MacBooks debuted last fall, I don't suspect that the company's freshening-up of the low-end MacBook is motivated by trying to appeal to those customers. Instead, I suspect that the decision to upgrade the $999 model is driven by Apple's desire to stay competitive in "fleet sales"—large volume purchases made by institutions and school districts, where the added $300 per unit would put the aluminum MacBook out of consideration all together.
Regardless, Apple deserves credit for dramatically improving the low-end MacBook without charging Mac users any more for it. If you're considering a new Mac and you're on a tight budget (and really, who isn't these days?), the $999 MacBook definitely deserves a closer look.