Last June, at its 2008 Worldwide Developer Conference, Apple announced that it would introduce a new feature of the iPhone Software Development Kit: a push notification system that would allow applications to receive information over the network and alert the user even while programs weren't actively running.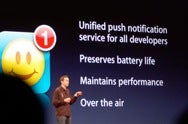 But Apple missed its self-imposed September 2008 deadline, with sources reporting that the functionality had been removed from development versions of the iPhone SDK. Apple has remained characteristically silent on the future of the push notification system—or whether it even has a future.
Notifications were intended to help compensate for one of the iPhone's weaknesses, its relative lack of multitasking, without taxing the finite resources the device offers. Only Apple's built-in applications, such as the iPod, SMS, e-mail, and the phone features, can run in the background. This puts third-party developers at a disadvantage when competing with Apple's own applications, or even when delivering the kind of functionality that many users have come to expect from their desktop experiences.
Here's just a sampling of some of the applications that could benefit from the addition of notifications to the iPhone's capabilities:
Read more…
Instant messaging
When the iPhone was first released, many decried the lack of support for instant messaging. With the launch of the App Store, that gap has been ably filled by several third-party developers, but the iPhone's lack of multitasking means that you can only chat with people when you're running an instant messaging app, making it a pain if you want to send somebody a URL or phone number.
Some IM clients, such as AOL's AIM, feature the ability to leave you logged in when you quit the application. That means you can still receive messages when you're not running the application, but you won't see them until the next time you launch the program. It's an unwieldy solution, especially if you need to bounce back and forth between AIM and Maps in order to, say, give directions to somebody, or if you need to refer to an e-mail message or Web page.
Notifications would help alleviate this problem, even if it wouldn't completely solve it. When not running AIM, incoming messages could pop-up a dialog box, much in the way that texts appear in the iPhone's SMS application, allowing a user to read a portion of the message and decide whether it needs to be replied to (thus choosing to open the application) or ignored for the moment. Alternatively, the number of incoming messages could be displayed as a badge on the application icon, letting you know you've got pending messages.
News readers
The iPhone can be a handy way of keeping up with your RSS feeds when you're on the go, but the lack of a notification system means that you don't know if there are items for you to read—or more importantly, how many—until you launch the news reader.
Of course, that's not all bad—for one thing, for the obsessive compulsive among us, it means that we're not constantly feeling like we're falling behind on our Internet reading. But if you just want to see at a glance how many stories are mounting up, there's no way to do that without opening the application, waiting for it to update, and then quitting out of it again. That's a long way to go just to know you've got 135 stories waiting for your attention.
Notifications wouldn't fix every problem with news readers: for example, it probably wouldn't allow the reader application to download the actual stories in the background, meaning that you'd still have to wait for all the feeds to load when you launch the application.
Social networking
Chances are you know somebody who gets pretty involved with some social networking service or other—I'm not saying you, but perhaps a close friend. We're talking the kind of people who check their Facebook page every 10 minutes or constantly refresh their Twitter feed or fire up their Flickr page. We hate to see those people disappointed when nothing's been updated, so wouldn't it be nice if they only had to launch the respective app when they knew there was new information there waiting for them?
Again, like the RSS readers, one could make the argument that perhaps these people are better off not being constantly inundated with notifications. Then again, if they're going to check those services every five minutes anyway, maybe notifications would actually help them curb their compulsive ways.
Calendaring
For those who fastidiously track all of their appointments in their digital calendar, notifications could be of assistance. Say one of the people attending a meeting wants to change the time or location at the last minute. Sure, your calendar program could just send you an e-mail with the new information, but you don't want to show up in the wrong conference room two days early because you didn't think to check your e-mail. A notification system could give you a heads up and let you update your calendar while you're thinking about it.
VoIP
There are a few Voice over IP applications—programs that let you make phone calls via your iPhone's Internet connection—on the App Store, but most lack parity with the iPhone's own built-in phone features. Notifications could help with that, allowing users to be notified of voicemail messages, just as with the Phone application. Other Web-based services that allow people to leave you voice messages could benefit from this as well.
Utilities
Applications on the iPhone can reflect your interest in various aspects of the world around you; there are plenty of ways notifications could help make your life easier. Are you the kind of person who keeps close tabs on the weather? Notifications could let you know if there's severe weather on the way, helping you make sure you get home before the snowstorm hits.
Financial aficionados could have stock applications notify them when a target price is hit, or when there's significant fluctuation in share price value, giving you the ability to make changes in your portfolio no matter where you are.
For frequent travelers, an application that tracks your flights could let you know if the plane has been delayed so you don't have to rush out the door to get to the airport hours before you needed to be there. And for those on the other side of the equation, a quick alert would tell you don't have to leave to pick up somebody at the airport when their flight is coming in late.
Bargain hunters would welcome notifications that tell them when there's a deal for a particular item on Amazon or another online vendor, or when somebody's just outbid you on eBay.
Notifications could also be useful for turn-based online games. Say you're playing a distant friend in a game of chess; notifications could let you know when your opponent has made a move, so that you can return and rebut their Blackmar-Diemer Gambit with a crushing riposte.
No notifications is good notifications?
Without multitasking, notifications could be an important asset in the iPhone developer's toolbox, but it doesn't look as though Apple is planning on launching this system anytime soon. Until then, we'll just have to enjoy the peace and quiet of not having to deal with pop-up dialog boxes every five minutes.