At a Glance
Expert's Rating
Pros
Lots of cartoon cameos
Family-friendly
Cons
Humorless, pathfinding issues, buggy
Not much to see, less to do
Our Verdict
The Cartoon Network has a great eye for creating smart, addictive browser-based games for its Web site. Adult Swim in particular has a plethora of niche games that are as rewarding as they are offensive. But, at its heart, Cartoon Network is a network dedicated to pleasing legions of kids with original PG-rated programming. FusionFall is an attempt by the network to create a family-friendly massive multiplayer online role-playing game (MMORPG) that parents are comfortable with and kids will enjoy. But like the cartoony source material, the game's appeal is likely lost on adult audiences.
FusionFall does a lot of things right. As a browser-based game, more people can enjoy it and it doesn't have demanding system requirements. The graphics aren't spectacular, but on par with similar MMOs of the last couple of years. The game is easy to use but the tutorial quickly shoves you out the door into the world of FusionFall. A better explanation on how to use the economies and transportation systems is needed, but those components don't come into play until later in the game.
Game saves are automatic, and health regenerates automatically over time, ensuring that the game isn't too difficult for beginning players. The game incorporates platforming on every level, so the gameplay isn't as limited in its focus as some MMORPGs.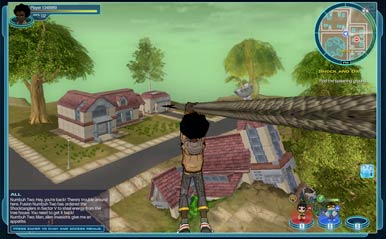 FusionFall's parental settings are top of the line, and Cartoon Network goes the extra mile to discourage prolonged playing sessions-players experience diminishing returns in the reward system after an hour of play. The rewards system resets after you log out for a period of time, enough for kids to study or actually go outside and play. Parents can also set up master accounts to limit a child's account and restrict chat options.
Kids will enjoy seeing in the game their favorite Cartoon Network characters, from Ben 10 to the Kids Next Door. Kids will geek out at seeing the KND's tree house and the Spanish-speaking monster Eduardo from " Foster's Home for Imaginary Friends.
Cartoon Network made a strange developmental decision by rendering all of the characters to a uniform Anime-like animation. While Carton Network's did studies that showed that kids like artistic renderings, I'll be a stick in the mud and say I didn't. Dexter (from " Dexter's Laboratory) is known as a gigantic genius with a pint-size stature. In FusionFall, he's just another tall anime-esque character. The Powerpuff Girls are almost unrecognizable, while Samurai Jack and others are identifiable. One can argue that it's difficult to include characters drawn in such vastly different styles in the same game, but Disney's console-based RPG Kingdom Hearts solved that problem with anime-style characters and it not only looked good, but kept the characters' recognizable and in context.
FusionFall's Nano system was a smart developmental decision, however. Nanos are little versions of the characters that can be summoned to aid you in battle. You're limited to three deployable Nanos at a time and can upgrade the characters and change their powers by spending in-game currency collected by defeating foes and completing missions.
The plot involves the cartoon world being invaded by an alien force that is covering everything in bizarre green goo that has made evil versions of all of your favorite characters. You have to free your imprisoned friends, defeat the evil clones, save the cartoon world, and travel back in time. While the secondary tasks will have you battling bad guys and running errands, the main plot is about sending you back in time to defeat the evil Fuse before he can conquer the world. Free accounts are limited to playing in the future zone and capped at four Nanos to select from, but paid players can travel back to the present and unlock 34 Nanos.
While the conflict in the game is inherently violent, the game does a good job of keeping the weapons toy-like; you'll get purple hammers and éclair pistols but nothing that resembles something translatable to the real world. The equipment is sadly the most amusing element of the game. The characters take the game's war plot seriously and the mirth and humor that defines the source material is strangely absent in FusionFall. Yes, you'll go searching for jawbreakers and gumballs, but for a cartoon-based game, there are a lot of missed opportunities for silliness and laughter.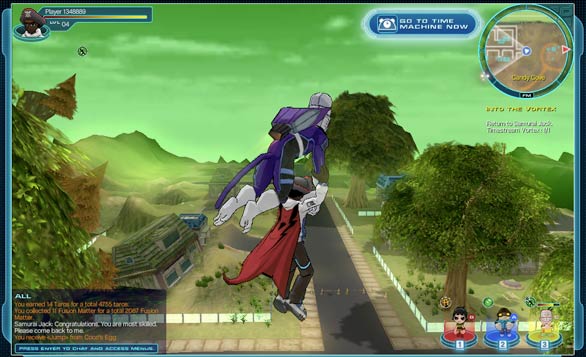 Humor is important because the game needs something to keep you going during the first few boring hours. In the Future zone, the central hub and training ground is a bizarre fusion-corrupted suburban wasteland that makes the Lovecraftian apocalypse seem tame. To make things worse, you are forced to cover the vast sprawl on foot. You can journey to different zones by traversing bridges, hiring flying monkeys, or using warp gates but the maps are unintuitive and the transportation never becomes convenient.
The quests are usually about finding an object or beating up a number of baddies and then visiting another character. It pads the game length, which really isn't necessary. The level cap is 40 and I made it to level 7 after a week of playing. There are varied maps and missions in the game, but you'll have to trudge through a lot of monotony before getting there.
While Firefox is supported by the game, I had periods where the browser crashed repeatedly. Safari, however, worked just fine. These flaws can be overlooked and will likely be addressed, but some major pathfinding issues and bugs I encountered while starting and completing missions are more serious causes for concern.
Macworld's buying advice
Adult and teen gamers will find the missions monotonous, the humor lacking, the pacing off, and the world an awkward bastardization of childhood mirth and wonder. Like a crossover comic book, FusionFall is an amalgam of characters that lose their distinction and humor while forced into a stale, frustrating world. Personally, I think Cartoon Network may have been better off exploring the mature humor of their website games and made an Adult Swim MMO.
But as an adult reviewer with no kids, I realize I'm not the target audience. Cartoon Network deserves credit for creating a game where kids 8 to 14 and their parents can share in the fun. While adult gamers may find the game shallow, the short game sessions, multiple character cameos, and simple game mechanics will likely entertain kids and be a safe introduction into the world of MMOs. If you're a dedicated MMO fan who wants their kid to try something simple and safe, FusionFall and its kid-friendly features may be right up your alley.
[Chris Holt is an assistant editor for Macworld.]