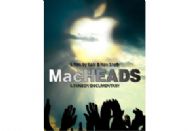 Did you miss out on the premiere of MacHEADs in San Francisco earlier this month? Maybe you just love it so much that you have to have it for yourself. Either way, Mac fans can celebrate as MacHEADs is now available for download or rent from your favorite online retailers, including iTunes and Amazon.
(Of course, if you were a true MacHEAD, you'd watch the film accompanied by a Joy of Tech Macworld Celebrity Checklist card, to find all the "famous" figures you can.)
iTunes, as per usual, offers it up for $15 for purchase and $4 for rent; meanwhile, Amazon, that sneaky sneakerton, has it up at $10 for purchase and only $3 for rent. Of course, if you're on, say, a Mac, you can only watch it online via Amazon. Booo.
Sadly, due to annoyingly complicated licensing rules, both of these vendors only serve up video-on-demand to US buyers and renters, so those of you out of the country will have to wait.
We're assuming that the MacHEADs crew is working on a DVD version that everyone can watch in exchange for cold, hard, electronic, cash.
[via Cult of Mac]