Western Digital announced Tuesday the first 2 terabyte (TB) hard disk drive, a new addition to its Caviar Green product line. The new 3.5-inch hard drive costs $299.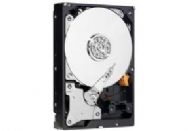 The single 2TB hard disk mechanism features WD's 500 GB/platter technology with 32MB cache, mated to a Serial ATA (SATA) interface. The company considers the new mechanism as suitable for use in USB, FireWire and external SATA (eSATA) external hard drive chassis, along with desktop computers, work stations and desktop RAID environments.
The power-saving capabilities of the drive lead to an up to 40 percent reduction in power consumption, according to WD, hence its "Green" designation. That yields an average savings of four to five watts of a standard desktop drive, and it also helps the device operate at lower temperatures.
Features of the new 2TB Caviar Green drive include "StableTrac," which secures the motor shaft to reduce vibration, helping to provide more accurate read/write head tracking; "IntellPower," which fine-tunes the performance and power consumption of the drive; "IntelliSeek," which optimizes seek speeds, and "NoTouch" ramp load technology, designed to help ensure that the recording head never touches the disk media.