Panasonic has expanded its line of Lumix compact digital cameras. All the new cameras are coming in April.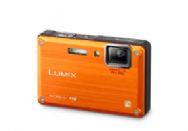 The TS1 is a new model that is waterproof, shockproof and dustproof, and also records AVCHD Lite High Definition (HD) video. It's a 12.1-megapixel camera with 28mm lens, 4.6 optical zoom and iA mode. It's waterproof to 10 feet, shockproof from up to five feet, and dustproof with rubber padding, reinforced glass and carbon resins inside the camera, and an airtight body. The camera also touts a 2.7-inch LCD display. Priced at $399.95, the camera will be available in silver, green or orange finishes.
The DMC-FS25 is a 12.1-megapixel camera with 5x optical zoom and 29mm wide-angle lens. It sports a 3.0-inch LCD display and shares the same slim look as other FS-series Lumix cameras. The camera's "Intelligent Auto" mode includes Auto Focus tracking and "Intelligent Exposure" functions. It works with SD and SDHC memory cards. It's priced at $249.95; it will be available in silver, black and gold finishes.
The FX580 also features a 12.1-megapixel sensor and touch-screen 3.0-inch display interface, paired to a 25mm lens with F2.8 brightness and 5x optical zoom lens. Optical image stabilization, the "Intelligent Auto" (iA) mode and other features come standard; it can also record 1280 x 720 video at 30 frames per second. It's priced at $399.95 and comes in an aluminum body.
The DMC-FX48, another 12.1-megapixel model, features a 25mm ultra-wide-angle lens, 5x optical zoom, iA mode, image stabilization, and face recognition. It records 1280 x 720 video at 30 fps, sports a high-speed burst mode and macro zoom function, and has a 2.5-inch LCD. It's priced at $349.95 and comes in silver and black finishes.
The new ZS series succeeds Panasonic's TZ series. The $399.95 ZS3 sports 10.1-megapixel sensor, 25mm ultra-wide-angle lens and 12x optical zoom, and can record video in AVCHD Lite format. It features the same iA mode found on the other new Lumix models along with Face Recognition. The ZS1, priced at $299.95, comes with a 10.1-megapixel CCD, standard iA mode (no face recognition) and no movie mode.