Years ago, a friend of mine and I managed to wangle our way as VIPs for the filming of a network sitcom. We had the run of the set, which had been closed to the usual studio audience for the big season finale. We also got a tour of the writers' offices, which looked more like a frat house than any place of business.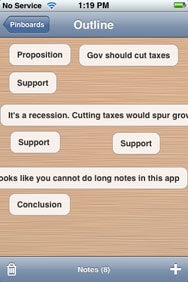 I'll not soon forget the executive producer's office. One wall and much of the ceiling were covered with index cards, each with ideas for future stories. Apparently, all of the really crazy ideas ended up posted over the writer's heads. Sometimes, one or two of those ideas would fall to the floor. Occasionally, one might end up in a show.
Never question the creative process.
I was reminded of that office ceiling when I started playing with Pinboard, a notes app by Not Salad for the iPhone and iPod touch. What distinguishes Pinboard from other note, checklist or GTD-type apps is its clever interface. You can rearrange your notes with a tap and a drag, moving one up and another one down, collecting notes in one corner, exiling others to another. Just like you would with a real pinboard. Or on your office ceiling.
Pinboard, in short, is a brainstormer's delight. It's also a quick and easy solution for short to-do lists, reminders, and other items you might otherwise stick to the side of your monitor.
Read more…
Adding and deleting notes to your pinboard is simple. Tap the plus sign on the bottom left side, and a keypad pops up. Tap the trashcan icon on the bottom left side of the screen, and you can delete any note. (You can delete an entire pinboard from the app's home screen by simply dragging your finger over the pinboard's name and tapping the red delete button.)
The iPhone's screen is necessarily smaller than an office ceiling, and the notes are necessarily small as well. Pinboard works best with the briefest of notes. Shorter is better—four or five words, tops. I tried typing out a sentence, just for laughs. Pinboard cut off the sentence at the edge of the screen. Although I could tap the note and bump it leftward to see the remaining words, I found myself wondering why the developer couldn't simply let the text wrap, even if that isn't what the app was intended for.
A couple of other small knocks against Pinboard: You cannot adjust the type size on your notes. And the app, like so many, does not support landscape mode. Barring landscape support, I do wish I could rotate any note 90 degrees. Horizontal notes can be so boring.
Hey, don't question my creative process.
Pinboard is compatible with any iPhone or iPod Touch running the iPhone 2.2 software update.
[Ben Boychuk is a freelance writer and columnist in Rialto, Calif.]