Whatever details, factoids, and minutiae you can rattle off about the people who make up the Contacts stored on your iPhone, chances are their phone numbers are not among the data that you're able to recall at an instant. After all, if your contacts number into the hundreds, that's a lot of digits to keep straight.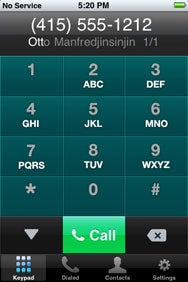 So instead of struggling to remember someone's phone number, wouldn't it be easier just to punch in their name to dial? That's the idea behind Smart Dial, a utility from Gary Fung that lets you dial contacts by spelling their name out on the number keypad. By saving you from scrolling through your list of contacts, the act of calling someone up becomes that much simpler.
Upon launch, Smart Dial presents you with a generic number keypad that looks much like the one you see in the Phone application. You can use it to make phone calls almost exactly like any other number keypad, but it's also capable of much more.
Read more…
If you have a contact named John Smith, typing the number keys corresponding to the first few letters of his first or last name will bring up the contact on the keypad, ready to be dialed.
If the contact that shows up isn't the one you were looking for—because you have more than one name starting with the same letters in your contacts list, for example—you can either tap a button with a downward facing arrow to go to the next match or keep typing the contact's name until you've narrowed down the list even further.
If you cannot remember the name of a particular contact, or are just in the mood to use the familiar list-based approach, Smart Dial's Contacts tab lists your entire address book exactly like the built-in iPhone application. There's another tab that shows you a list of recently dialed calls from within Smart Dial. (Call you've dialed directly from the built-in Phone application won't appear here.)
By default, Smart Dial gives priority to first names, recently dialed calls, and mobile numbers, but you can configure these settings to your liking. Smart Dial also gives you the option to send a text message instead of a call when you select a number in the Details view after tapping on the contact name on the keypad screen (though you can turn off that setting as well).
As great as the app is, there are a few blemishes that take away some of its shine. Unlike the iPhone's default keypad, the one in Smart Dial does not redial the last dialed number when you tap on the Call button twice or give you the option to add the number you've dialed to your contacts list. Smart Dial also can't dial the plus (+) character or work with spaces. Finally, it shows all your recently dialed calls as separate entries, even if you dialed the same number several times.
Even with these flaws, however, Smart Dial is an immensely useful utility for iPhone owners. I'm able to dial more quickly than I would be if I used the traditional list- and search-based dialing options.
Smart Dial is compatible with any iPhone running the iPhone 2.x software update.
[Aayush Arya blogs about the Mac at MacUser.]