iSimple has announced that it has approved its GateWay iPod and iPhone integration system for use in more than 30 2009 model cars and trucks.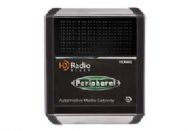 Automakers approved for use with the GateWay product include Ford, Honda, Hyundai, Lexus, Lincoln/Mercury, Nissan, Pontiac, Toyota and Volkswagen.
The iSimple GateWay emulates satellite signal data to provide factory-installed automobile sound systems with direct iPod or iPhone connectivity. It charges the iPod or iPhone's battery, displays song information on the factory stereo display, lets you browse songs using your vehicle's radio controls, and features a secondary headphone-style input to connect another portable audio device. The GateWay also can be upgraded with an HD Radio receiver.