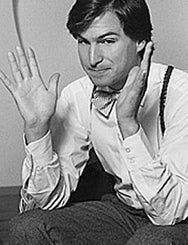 Less than one week ago, 25 years ago, the world changed as the Macintosh arrived. Macworld and, of course, this very blog would not exist had that event not preceded them (so don't get any ideas, time travelers). Naturally, there was tons and tons of (sometimes skeptical) media attention at the time.
One of the more esoteric outlets to interview Steve Jobs was Playboy (that link may be Not Safe For Work, depending on your workplace). Yes, the venerable men's magazine sat down with Jobs (doing his best future Tucker Carlson impression) back in late 1984 for the February 1985 issue.
Here's the best exchange from that interview:
PLAYBOY: What will change? JOBS: The most compelling reason for most people to buy a computer for the home will be to link it into a nationwide communications network. We're just in the beginning stages of what will be a truly remarkable breakthrough for most people—as remarkable as the telephone.

PLAYBOY: Specifically, what kind of breakthrough are you talking about? JOBS: I can only begin to speculate. We see that a lot in our industry: You don't know exactly what's going to result, but you know it's something very big and very good.

PLAYBOY: Then for now, aren't you asking home-computer buyers to invest $3000 in what is essentially an act of faith? JOBS: In the future, it won't be an act of faith. The hard part of what we're up against now is that people ask you about specifics and you can't tell them. A hundred years ago, if somebody had asked Alexander Graham Bell, "What are you going to be able to do with a telephone?" he wouldn't have been able to tell him the ways the telephone would affect the world. He didn't know that people would use the telephone to call up and find out what movies were playing that night or to order some groceries or call a relative on the other side of the globe. . . Also, the neatest thing about it was that besides allowing you to communicate with just words, it allowed you to sing.
Other fun examples of early Steve Jobs and Apple media coverage are in the CBC archives (currently seemingly only accessible from the Great White North—sorry, Yanks) from 1987.
Jerry Wozniak, Steve Wozniak's father, said in an interview at the time that after the two Steves started working on their garage workshop, he thought that maybe they could "make a million dollars." Obviously, they made that and then some.
There's also The New York Times's first coverage of the Mac, in a piece written by a 24-year-old David E. Sanger, now the Times's White House correspondent.
Moreover, the computer is driven by the 32-bit Motorola 68000 – a microprocessor that handles 32 pieces of information at a time. That is about twice as powerful as the Intel chip at the heart of the I.B.M. And like Apple's Lisa machine, which floundered last year, the Macintosh relies on a handheld device called a mouse.

Instead of typing instructions, the user rolls the mouse on a desktop. As it moves, the cursor – an arrow that points to specific points on the screen – moves accordingly. The user can give instructions by pointing the mouse to pictures on the screen, such as a file cabinet or wastepaper basket. Or, by using a graphics package called MacPaint, he can draw his own creations.
Have you dug up any other choice quotes from the early days of the Mac?
[via Cult of Mac and CBC Spark]