Yahoo's Flickr is one of the most popular photo-sharing Web sites around, and not just because of its strangely intriguing name. For $25 a year, you can upload as many full-res photos as you want, as well as 90-second videos, for anyone to see (a free account gives you the ability to upload 100MB worth of photos per month, but no videos). It also lets you explore other people's photos in a number of different ways. And now iPhoto '09 can upload directly to Flickr as well.
If you're a Flickr user, an iPhone app that connects to the photo site is natural extension. Here are three of the most popular apps, all of which let you log into your Flickr account, view you photos and those of friends and other users, take advantage of the iPhone's location services, and even upload images directly to your Flickr photostream.
Read more…
Reflections 1.0
Orange Petal's Reflections is a very pretty Flickr app. It has four menu buttons along the bottom. Library shows your favorites, photostream, sets, and groups, and you can drill down into any of those categories by tapping on one. Photos load into a blank grid in a smooth, fluid fashion, and, like with Mobile Fotos, you can swipe your finger to move to another photo as you can in the iPhone's own Photos app (you can also use forward and back arrows if you prefer). Private photos in your photosteam are accessible, and Flickr videos show up as photos, but unfortunately you can't play them.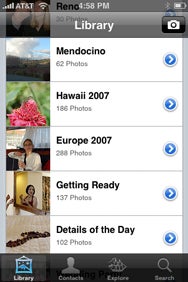 You can also display photos via a slideshow, where pictures transition automatically with the same swipe effect. (You set the interval between slides in the app's preferences, located under the iPhone's Settings app—the only of the three apps reviewed here that make you leave the program to change its settings.) As with the other apps here, Reflections caches photos in order to speed up viewing, but your control over it is limited. There's a Cache section in the preferences that shows how much space is being used on your iPhone, but the slider for setting the amount of cache doesn't display cache size information (the developer says this is due to a limitation Apple puts on preferences located in Settings), and an Empty option that you can set to on or off doesn't seem to empty the cache until you quit and relaunch the app.
Library is also where you'll find a camera button in the upper right corner, which allows you to upload full-size images to your Flickr account (one you take with the camera at the time, or one that you've already taken). Once a picture is uploaded, you can change the title, or add tags or comments to it from within the app. The tag interface is really slick, giving you an alphabetical list of your tags (or, if you prefer, your most popular ones) from which you can easily pick one or several (you can also add new tags). One downside is that that app adds "Uploaded via Reflections. Only on iPhone" to the description by default, and there's no way to disable it (although you can change it later). I know this is common for iPhone apps and a good way of spreading around your app's name, but I find it annoying. Also, the editing interface is a little odd—when you load a picture, you can tap on the "I" button to see the title and description (along with the places to edit comments, tags, and security [public or private]), but you can't edit them unless you tap on the Edit button (which removes the comments and tags options and changes the Edit button to a Done button).
The other menu items are Contacts (you can see all, family, or friends), Explore (showing you Flickr's Interesting and Public feeds, as well as photos geotagged near your current location, and Search (letting you search Flickr by tag, text, or place).
Darkslide Premium 1.5.2
Connected Flow's Darkslide Premium ($10, although frequently on sale, or the free Darkslide, which includes ads) has many similar features to Reflections ( see our review of an earlier version of Darkslide, then called Exposure). The My Photos tab shows you many of the pictures in your photostream, with a Load More Photos button at the bottom to continue to the next batch. You can decide (in the app's settings) whether to view photos as thumbnails or rows.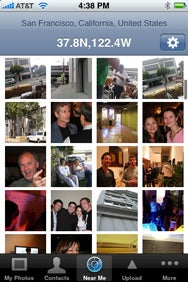 Once you've selected a photo, you can go to the previous or next photo by tapping on one of the arrows at the bottom of the screen. Tapping on the Info button shows you title, tags, and the like, and lets you add a comment. From the Info window, you can also post it to Twitter (you need to have the Twitterrific iPhone app installed as well), mail a link to the photo, or open it in Safari. As with the other apps, you can see your private photos, but Darkslide indicates which photos are private, while the others make no distinction.
The Contacts tab shows you either recent photos from all of your contacts, or lets you scroll through a list of your contacts and select one to view his or her photos. The Near Me tab show photos taken near your current location, but offers a Settings window that lets you choose the search radius; whether to sort by distance, interest, or date; whether to sort by nearest or farthest distance; and displays detailed info on your current location as determined by the app.
The Upload tab gives you the ability to upload photos at their full resolution (or at 50 percent or 75 percent compression), and give them a title, description, tags, and location, as well as set the security, photoset, and group pool. While uploading, it gives you a status bar and shows you how much data you've sent so far. When you're done, it provides buttons to open Flickr in Mobile Safari or post to Twitter.
Finally, the More tab lets you view featured photos, your favorites, your groups, or your sets (by date or alphabetically); search by places, tags, or on Flickr in general; see recent activity (new comments on your photos, for example); and access the settings (Darkslide's photo caching controls, like those of Mobile Fotos, are more straightforward and easier to use than those in Reflections).
Mobile Fotos 2.1
Karl von Randow's Mobile Fotos ( see our review of an earlier version of Mobile Fotos) has a few features unique among the bunch. It lets you log into multiple Flickr accounts, it can play many Flickr videos, and it offers a setting for hiding your private photos.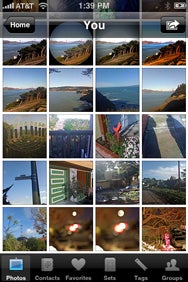 Mobile Fotos uses a single-screen approach to its interface, which shows you the name of your Flickr account on the top, and a list of You, Contacts, Explore, Nearby, Search, Camera, Upload, and Settings beneath it. Tapping on You takes you to a page with Photos, Contacts, Favorites, Sets, Tags, and Groups buttons along the bottom, which offer what you'd expect. Although the interface doesn't differentiate videos from photos, if you click on a video in a photostream, it will load and let you play it. Mobile Fotos' App Store page says video support is experimental, and that not all videos will play (Flickr hasn't converted all of its videos to an iPhone-friendly format yet), but I was able to play the videos I've uploaded without any problems. That's Mobile Fotos' big triumph over other apps. The ability to switch among multiple Flickr accounts is a nice addtion as well, but probably not as useful to as many people.
Explore lets you view interesting or recent photos, as with the other Flickr apps. Nearby takes a slightly different approach to geo-tagged photos, showing you when your location has been acquired (and how accurately), and letting you choose the search radius, timeframe (taken in the last day, week, month, six months, year, two years, or five years), and sort order before clicking on a Search button to submit your query.
You can use the Search option to look for items in your photos, your contacts' photos, everyone's photos, groups, or people. (The contacts search is the same screen you get if you go to You -> Contacts.) You can upload full-resolution images from your Camera Roll or with the camera using the Upload button, and Mobile Fotos gives you lots of options when doing so. You can set the title, description, and tags. It doesn't list your Flickr tags, however, so you have to enter them by hand. You can also add the photo to an existing or new set, or to a group. You can choose to add the current location, pick security and safety levels, and choose the content type.
One feature I was excited about was the ability to hide private photos—if you're showing off some of your photos to someone else on your iPhone, you might not want to include the ones you've designated as private. However, when I turned on this option and emptied the app cache as instructed, my entire photostream vanished from my Photos area. The only way to get my photostream back to was to delete my account in Mobile Fotos and reauthorize the app to access my Flick account. And my private Flickr set still showed up in the Sets area. (The developer plans to both problems in a future update, although limitations with the Flickr API mean you'll probably still see a thumbnail for private sets.)
All three apps are compatible with any iPhone or iPod Touch running the iPhone 2.x software update.
[Senior News Editor Jonathan Seff has nearly 3,000 photos on his Flickr account.]