The moment the Arizona Cardinals and Pittsburgh Steelers settle matters on Sunday at Super Bowl XLIII in Tampa, we enter a blighted period for sports fans. The basketball and hockey seasons are deep into their dog days with the playoffs to far away to think about, baseball players haven't reported for spring training yet, and the only football on the docket is the execrable Pro Bowl—an all-star game that even the all stars hate participating in. Truly, the month of February is a grim time for our nation's sports pages.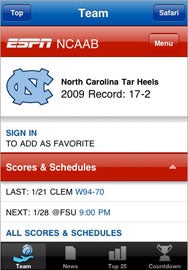 And yet, several new additions to the App Store promise to see sports fans through this barren stretch with an oasis of information about their favorite sports and teams.
Prolific app maker GP Apps has spent the past few days ramping up its team-specific iFan offerings for folks with a college basketball jones. The iFan app offers the latest news, scores, and schedule information tailored to your favorite team. Just append the name of your school at the end of iFan— iFanNorthCarolina, say, if your a die-hard Tar Heel, or iFanUCLA if you need to know about all things Bruin. By my count, there are more than 50 iFan apps tailored to schools from the ACC, Big 10, Big 12, Big East, Pac-10, and SEC conferences; GP Apps also makes conference-specific trackers as well. Each iFan app costs $1.
Shane McCafferty is also targeting specificity-loving sports fans with a five-pack of applications all focused on a lone sport. The Back Pages apps feature offerings for Major League Baseball, the National Basketball Association, the National Football League, the National Hockey League, and soccer. Each of the $1 apps offer headline news related to their particular sport.
Finally, fans of other sports can turn to a pair of programs from iApp Ventures. Horse Racing Live delivers horse-racing headlines directly to any iPhone or second-generation iPod touch while Nascar Live offers to do the same for stock-car racing. Horse Racing Live costs $10 while Nascar Live costs $5.
Other apps of interest that were recently updated or added to the App Store include:
Read more…
Got an app you've just released to the App Store? Drop us a line.