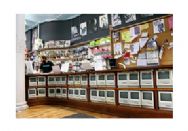 In New York? Want to celebrate the 25th anniversary of the Mac? Looking for something to do this weekend? Never fear, the Big Apple's TekServe is here to satisfy this classic triumvirate.
In what its organizers are calling "a petting zoo" of Macs, the TekServe store in Manhattan ("the largest independent Apple shop in the country") has been showing, all this week, a plethora of classic Apple hardware. The exhibit is closing at the end of business on Sunday February 1.
The store's got an original Macintosh 128k signed by Steve Wozniak himself, a Lisa, the original Mac Portable, a Newton, a NeXT cube, the G4 Cube, various Powerbooks, the eMate, the legendarily laughable 20th Anniversary Mac, and the first iPod. Presumably, everything listed will be in fully operating order.
That's quite a stash of classic hardware! Man, if I weren't an ocean away, I just might go.
The event is free and open to the public. Tekserve is located at 119 West 23rd Street, just west of 6th Avenue. Store hours are Monday through Friday 9 am till 8 pm, Saturday 10 am till 6 pm, and Sunday noon till 6 pm.
Be sure to send us pics if you end up going!
[Photo: Nick Jeffery]