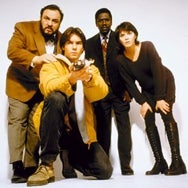 The Macalope's wondering if there isn't something weird about Apple faring so well while others are doing so poorly. But, whatever the reason, let's get our kicks in while we can—it's not like they're undeserved. And who loves unfounded rumors? Well, we all do, of course!
Sliders
Crazy times, huh? Layoffs from Microsoft, Starbucks, AOL, Yahoo—it's like a parade of the darlings of the 1990s. Well, more like a walk of shame than a parade, really.
Ten years ago, who would have thought that Apple would be propping up AT&T's numbers during a huge economic downturn? Apple, after managing to simply survive the economic boom of the 1990s, has flourished ever since, while much of the rest of the industry has struggled.
The Macalope doesn't have a point here, but to those who were Mac users during the 1990s, isn't this weird?
You know, it's quite possible that sometime during the Amelio years we slipped into an alternate timeline. Has anyone looked into that? Are there any physicists in the audience?
Read more…
Oh, come on, just one kick while they're down?
Since the Macalope's not even going to mention the poor fortunes of the Zune these days (whoops, he did it again), he's entitled to draw attention to the story about the smackdown Russian Prime Minister Vladimir Putin gave Michael Dell at the Davos economic summit (motto: "Oh. You weren't invited?").
The horny one was, of course, reminded of Dell's sterling advice that Apple should be shut down and the money given back to the shareholders. And he can't say he faults Putin for saying thanks, but no thanks, to that caliber of "help."
And remember when Dell was going to make its own "iPod killer"? Ha-ha! Ahhhh.
Wait, how did Michael Dell get invited to Davos?
Would you like to play a $20 game?
Pocket Gamer (stop snickering, please) says Apple's planning a high-end gaming section on the App Store, where big-time studios can sell their big-time games for big-time bucks. Well, maybe Apple is.
But here's your first wacky, totally unfounded Macalope-pulled-out-of-his-butt rumor (Apple rumors come from somewhere, kids, and it's time you learned where: the Macalope's butt).
You know how Apple's still trying to figure out the Apple TV? Sure, you do. You're smart and sexy and you keep on top of these things. Well, last summer the brown and furry one's old sparring partner Adrian Kingsley-Hughes actually hit on a great idea: making the Apple TV into a gaming platform and selling games from the App Store. The only thing Adrian thought was missing was a controller.
Controller?
Controller???
CONTROLLER???!!!1!!ONE!ZOMG!!!
Why, it's already in your hand, Dorothy! (Um, no, your other hand. And stop that.)
It's your iPhone or your iPod touch with a brand new game-controller app. Remember how Apple likes to make its products interdependent so you have to buy all of them to unlock Super Steve God Mode? And, really, who has an Apple TV and doesn't also have an iPhone or iPod touch?
This also makes a little more sense given Pocket Gamer's (again, please stop snickering) contention that this premium store would sell apps for $19.99. You can put your iPhone apps in a nice gated community with all the flowers and rent-a-cops you can find, but at those prices, people are still going to drive down to the hood to score some $2.99 time killers.
Now, more full-featured Apple TV games that scale up to HD screens…
It's fun to speculate, isn't it? Well, it is until you remember where Apple rumors come from. And then you cry.