It's time for yet another roundup of new game offerings at the App Store. There are almost too many to keep track of, so here are af ew that have crossed our desk since the last time we gave you some game roundup news.
Bobby Carrot Forever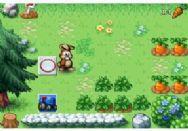 FDG Entertainment has released Bobby Carrot Forever for the iPhone and iPod touch. It costs $7.99. It's a puzzle adventure game featuring a rabbit who travels through a dream world as he seeks to solve the mystery of the six golden carrots.
Beat
Beat, priced at $2.99, is billed as "a new arcade twist on an old classic sound sequence game." It's basically an updated version of the popular Simon electronic game, in which you must press sound cubes in a pattern randomly determined by the iPhone, matching tones to create a song.
Trivial
Trivial is priced at $4.99. It has thousands of trivia questions, a networked high score system and head-to-head networked play. The game features four single-layer game types, resumable play and more.
Bang
Portable Hole Productions' Bang! is a $1.99 game that rains cartoon bombs. You have to blow them up, along with the bombers who are dropping them. You tap on the bombs and bombers to blow them up.
R.I.P.
R.I.P. is a 3D immersion game in which you use the iPhone as a viewfinder to look around a cemetery — you're a ghost, and you're lost. Can you find your own grave?
Punch-o-Meter
Punch-o-Meter is a 99 cent game that has you test your punching power. You throw an "air punch" with the iPhone or iPod touch in your hand, and Punch-o-Meter calculates a punch score based on accuracy, speed and strength.
Mancala: FS5
Mancala: FS5 is priced at $1.99. It's a version of the ancient board game Mancala complete with social networking built in; you can play with others over the Internet and play against AIM Buddies. You can type instant messages to your opponent while you're playing, save wins and losses and more.
Paper Airplane
Paper Airplane costs 99 cents, and lets you fly a paper airplane through the clouds, making a high score by popping as many balloons as you can without hitting any birds. You can catch kites for extra points. The game uses the accelerometer to control the plane, and produces "generative" background effects that are different each time you play.