Virtual Programming announced Friday the release of A Vampyre Story for Mac, a graphical adventure game only recently released for Windows (it came out in November). It costs $29.95.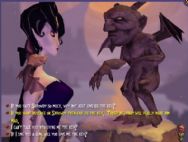 A Vampyre Story tells the story of Mona De Lafitte, a gifted opera singer who finds herself turned to a vampire by the vampire baron, Shrowdy Von Kiefer. Stuck in Draxsylvania Castle, Mona longs to run away to fulfill her dream of singing at the Paris Opera.
The game was developed by Autumn Moon Entertainment, which was founded by Bill Tiller, formerly of LucasArts. Tiller's resume includes work on The Curse of Monkey Island and Indiana Jones and the Infernal Machine.
Mona is joined by Froderick, "a witty and mischievous bat," who helps her solve puzzles and adds humor to the game as Mona gradually learns to come to terms with her supernatural nature.
System requirements call for Mac OS X 10.4.11 or later, G4 1.33GHz or faster, Nvidia GeForce 5200, ATI Radeon 9600 or Intel GMA950 or better 3D graphics with at least 64MB VRAM, 512MB RAM, 3GB hard disk space, Internet connection for registration.
A Vampyre Story is available for direct purchase and download from the Deliver2Mac Web site.