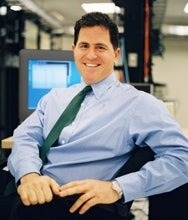 According to the Wall Street Journal, Dell is researching building a smartphone, which would likely run either the Windows Mobile or Android OS. The company may even unveil its efforts at the GSMA Mobile World Congress in Barcelona next month.
Oh, Dell. Is there any product that you can't release that won't make you seem like a Johnny-come-way-late-to-the-party? You had an innovative moment with your factory just-in-time logistics, but good manufacturing gets you only so far if it doesn't have a quality product to backstop.
Why would you want to get into the smartphone market, anyway? You didn't exactly tear things up with your failed attempt at a music player. Either time. And then there was your, erm, lackluster attempt at an online music store? Do you really want to get into the smartphone market? Apple and RIM are already going all Clash of the Titans on the marketplace—maybe you should just stick to those black plastic PCs. But hey, don't let us stop you. Maybe Michael Dell can convince Vladimir Putin to buy one.