Ettore Software has announced the release of TapIt4Me for iPhone and iPod touch. Available for download from the App Store, TapIt4Me costs $4.99.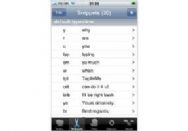 Like its Mac counterpart, TapIt4Me for the iPhone and iPod touch is a text expander utility. When you type notes or e-mails, you can use shortcuts for "snippets" — frequently-used words and phrases.
Users who already have Ettore's TypeIt4Me for Mac or TextExpander installed can directly download their snippet files from any Web server to their iPhone or iPod touch. A Microsoft Word macro is also available to convert your autotext and autocorrection entries to TapIt4Me format.
Ettore Software notes that TapIt4Me does not work to send SMS messages or to expand text in Safari or other apps.
TapIt4Me requires an iPhone or iPod touch running iPhone 2.0 or later software.