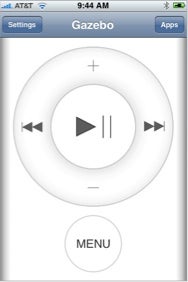 Apple's free Remote application lets you control your Apple TV or iTunes on your computer from the comfort of your iPhone or iPod touch, but what about the rest of your media applications? Well, if you have an Apple Remote you can use it for Front Row, the DVD Player, or QuickTime, but Apple stopped including the device with most of its hardware.
Fortunately, if you have an iPhone or iPod touch, you don't have to worry about shelling out the extra $19 the remote will cost you: a mere 99 cents at the App Store will snag you a copy of the new Rowmote (iTunes link) application.
You'll need to run the free Rowmote Helper on your Mac, and it'll need to be on the same Wi-Fi network as your phone, but once you've connected them up, you'll be able to handle Front Row, DVD Player, QuickTime Player, iTunes, or Keynote, just as though you were using Apple's own remote—right down to the interface.
[via Gizmodo]