Playrix Entertainment has announced its entry into the Mac game market with the release of new casual game titles for Mac OS X. Each is priced at $19.95; demos are available online.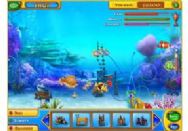 Playrix's new games include Fishdom, you build up and develop your "fishdom," a virtual aquarium full of rare and colorful fish. You solve puzzles as you collect almost 100 items and accessories to populate your aquarium with, and you can set the game up as a screensaver too.
In The Rise of Atlantis, in which you must collect the seven Powers of Poseidon to bring the legendary continent of Atlantis back to the surface. It's a puzzle game with bonuses and powerups that lets you visit lands around the Mediterranean as you collect the items. The game features 77 levels.
The ancient kingdom is in trouble in 4 Elements, and you must unlock four ancient books of magic and collect 16 mysterious cards to help restore the kingdom to life. A fairy aides you in your adventure as you combat elementals, dragons, knights and magical creatures.