At a Glance
Expert's Rating
Pros
Wireless content streaming
Attractive design
Cons
Cryptic menu icons
Interface can be sluggish
Can't hang on a wall due to power adapter
Our Verdict
Toshiba's DMF82X 8-inch digital picture frame has a sleek design and some useful wireless features. But looks aren't everything—the frames software interface can be sluggish and has menu's icons that are difficult to decipher, making for a frustrating user experience.
The DMF82XKU is a chic-looking black frame accented with a narrow acrylic border; it is also available in white as the DMF82XWU. Like most Wi-Fi-enabled frames, the DMF82X must remain tethered to an AC adapter, so displaying the frame on a wall is out of the question. The frame is heavy, too, with a chunky protrusion on the back, so the DMF82X really looks best on a desk.
To access the frame's menu, you can use the included remote, whose tough buttons require a lot of pressure. Or you can use the touch-sensitive controls along the right side of the frame. The controls allow you to access the menu and to change modes, as well as to move to a previous option. Unfortunately, operating the DMF82X is difficult to get a handle on due to the menu's cryptic icons (a globe, a smiley face, a rectangle with bitmap-style shapes superimposed on it). And most modes, such as the slideshow, have limited options (a clumsy-looking dissolve or a snappy music-and-slide presentation). In addition, the frame is slow to respond to commands, putting up a whirling status indicator while loading a new mode.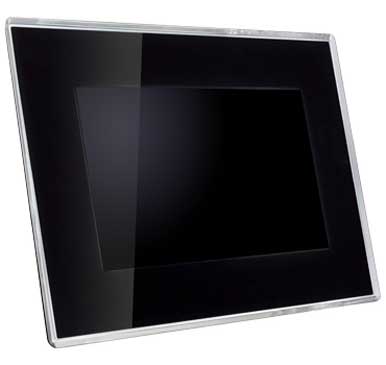 The frame's 1GB of internal memory allows you to store plenty of photos and music. It supports SD/SDHC, MultiMediaCard, XD-Picture Card, and Memory Stick or Memory Stick Duo, and it will play content from an inserted card. Slideshows can display with or without music, and the frame can handle nested content, displaying all photos stored in its internal memory or on an inserted media card. The frame has an auto-orientation sensor, as well, so you can show images with the frame positioned vertically or horizontally. The frame also offers calendar and clock views, along with single-image view.
Images appeared punchy on the DMF82X, with high contrast (adjustable in the Screen Settings menu) and a slight blue shift in white areas. Our test unit tended to blow out the brightest highlights more than some of the other frames we've tried, but photos looked sharp with good detail in midtones and most shadow areas.
The DMF82X will play JPEG, TIFF, and BMP images, MPEG-1, MPEG-2, or MPEG-4 videos, and WMA and MP3 sound files. Audio quality was reasonable and not too tinny (a common issue among digital picture frames), although the volume was not quite loud enough, even when we were sitting right next to the frame. One thing we particularly disliked: In the music and slideshow mode, you can't alter the volume or otherwise control the music during the show.
The DMF82X allows you to access online content from a variety of Web sites. With a free FrameChannel account online, you can stream content from Facebook, headlines from news outlets, pictures from Flickr and Picasa, and more. Setting up FrameChannel was relatively straightforward on the DMF82X once we figured out how to access the frame's Wi-Fi settings. After we entered our network key using the remote, the procedure went off without a hitch. Once you link FrameChannel with your frame by entering a vendor-supplied code, you'll begin to see your channels on screen (although we experienced a several-hour delay in updated subscription choices). Content rotated about once every 5 seconds in our tests.
Macworld's buying adivce
Although Toshiba's DMF82X digital frame offers various Wi-Fi capabilities, its ease of operation leaves a lot to be desired, mostly due to the clunky hieroglyphics of its main menu—a touchscreen would be nice. Toshiba's entry into the digital photo frame market will have some tough competition; other frames offer menu designs that are miles beyond what this frame offers.
[Kathleen Cullen is a freelance contributor.]