I have no idea what will happen at Super Bowl XLIII in Tampa on Sunday. But one scenario that I'm pretty sure will be off the table is this one: When the captains of the Arizona Cardinals and Pittsburgh Steelers meet at midfield for the pregame coin toss, I do not expect one of the Steelers captains to snarl at his Cardinal counterpart, "Let's settle this like men… with our iPhones!"
But let's just say for argument's sake that both the Pittsburgh and Arizona players are really into their iPhones and that the situation I've just laid out is exactly what comes to pass. First off, wouldn't the companies that spent hundreds of thousands of dollars on advertising really feel like chumps? Second—and perhaps more important—what app should the Steelers and Cardinals turn to if they were to settle the championship of professional football iPhone-style? And would their game of choice be good enough for you to just pass away some of your idle hours?
The App Store does offer at least half-a-dozen pigskin-themed games. Peter Cohen has already covered the two best ones— LED Football ( ) and its sequel, LED Football 2 ( ). But are those the only football games worth considering?
For the most part, yeah. There's at least one other game—maybe two—that could sate the football-hungry iPhone user. But most of the apps I tested this Super Bowl weekend fell more than a few yards shy of the end zone.
Read more…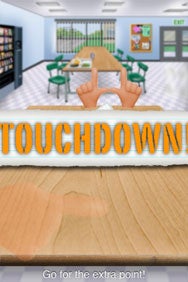 The concept behind Paper Football will be familiar to any schoolboy who ever goofed off during study hall or any 9-to-5 drone driven to distraction during a particularly dull conference call. Take a piece of paper, fold up into a finger-sized triangle and try to flick it the length of your desk. Score a touchdown, and you kick an extra point by flicking the paper triangle through the uprights—which are generally your opponent's outstretched thumbs.
Jirbo's offering for the iPhone and iPod touch recreates that game in mobile form, right down to the wooden desk and the cafeteria-like setting. Slide your finger into the paper football to make it skid along the table surface—if it stops at the table's edge, you get six points and the chance to flick the football for an extra point. Hit the football too hard, and your opponent gets a shot. That opponent can either be another person (who slides the football from the opposite end of the screen) or a computerized foe. First person to 35 points wins.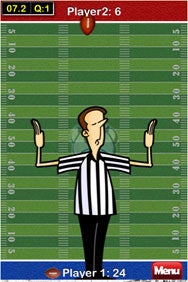 Controls can be a little bit challenging, particularly when it comes to flicking that extra point through the uprights. That said, I never had much difficulty besting the computer opponent, even when I opted for the "tough" setting. Two-player contests were another matter. I played several games with my wife, and Player One always scored the victory, even with us alternating between One and Two. Shots from Player One that would skid to a graceful halt on the table's edge flew right off the table when Player Two was making the shot. The paper football could be three-quarters off the table's edge for Player One and still score points; for Player Two, the football would topple off the edge at the slightest provocation. Another flaw: Should Player Two be lucky enough to score, he'll then have to flip around the iPhone to kick the extra point.
"This is tedious," my wife said. And she was winning at the time.
There's also a $5 version, Paper Football Premium, which is ad-free. You also get to create an avatar and match your scores against other Jirbo community members. The former feature requires you to download a separate app; the latter never worked for me in my testing. And the gameplay is just as frustrating as in the free version. Run far away.
Jirbo's other football effort is Finger Football, a carbon copy of Paper Football only with an actual pigskin replacing the paper triangle, a football field replacing the tabletop, and field goal posts instead of fingers. There's a rule change, too—instead of games lasting until someone scores 35 points, you play four 30-second quarters. The highest score when time runs out wins.
Other than that, Finger Football is a dead ringer for Paper Football, with the same scoring, same controls, same sound effects, and same flaws. Player One is as invincible as ever. And Finger Football adds its own unique flaw: Because there's no shot clock, a player who's ahead on points can let the clock wind down without penalty. I had the lead and the ball against a computer opponent in the fourth quarter of one game with more than 20 seconds on the clock, and I never shot again. Tainted victory was mine!
Jirbo also offers a paid version of Finger Football, currently for $3. It's billed as the "Hard Edition." After my experience with Paper Football Premium, I didn't feel like paying for the privilege of being more frustrated.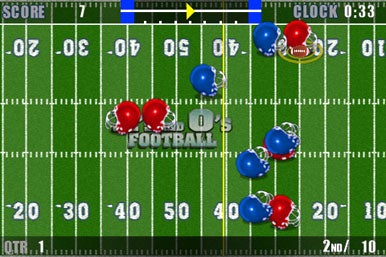 X's & O's Football from Skyworks at least delivers a more authentic football experience. In this game, you're both coach and quarterback. You pick a passing play out of a playbook of eight plays. Snap the football, and it's up to you to deliver a pass to your red-helmeted receiver who's being flanked by a computer-controlled defender. Just tap on the screen where you want to throw the ball—the playbook shows you the patterns your receivers will run—and if you time it right, your receiver will make the catch. Once the receiver catches the ball, you can tilt your iPhone or iPod touch to make the receiver run down the field. Because the defender is usually on your receiver like stink on an ape, though, you'll usually get tackled before you can make many moves.
You've got four downs to get 10 yards; fail to convert and it's game over. Otherwise, you keep playing through four 1-minute quarters, racking up passing yards and touchdowns in the process.
X's & O's is fun—to a point. But with only eight plays to choose from, all of them passing, the game quickly becomes repetitive. Also, it doesn't take that long to get the timing down, making it easier to complete passes. Let's just say that as tenacious as the blue-helmeted defenders may be, the Detroit Lions are probably kicking themselves for not scheduling them this past season. (To the game's credit, you do have to mix up your play calling, or the Blue Helmets will get wise to the fact that you keep throwing to the same receiver running the same pattern.) After just a few attempts, I was able to play a complete four-quarter game without once turning the ball over on downs. Since you play only offense, never defense, your score can take on an Arena Football-like quality; I broke triple digits in one game, and if the High Scores from other players are anything to go by, I'm just a pisher. Add a few more play-calling options and a more challenging defense, and X's & O's would be on to something.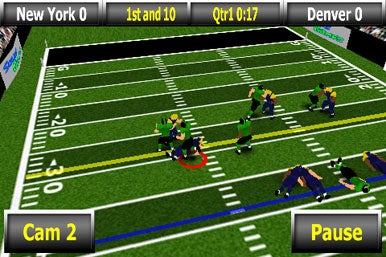 PocketSports Football from Solus Games is on to something promising as well, though there are still a few kinks to work out. Still, it's the only game I found on the App Store that offers a traditional football experience, so pigskin junkies will want to give it a try.
In PocketSports Football, you're in command of a seven-man team playing a four-quarter game. (You can set whether the quarters last one, two, or three minutes.) You call the plays when you're team is on offense and defense. And you can either play a quick game, or an eight-week season in which you control the destiny of one of 10 teams.
PocketSports Football makes great use of the iPhone's accelerometer, with you tilting your iPhone or iPod to control the movement of your players down the field. There's also a pregame warm-up mode which is great for getting the hang of the controls before you ever snap a ball in anger. Multiple camera angles give you three different views of the gameplay.
But there are some shortcomings. I found passing plays—in which you tap on the receiver you want to throw to—a little difficult to master; sometimes my quarterback would just hold on to the ball, no matter how frantically I tapped. And while you can set your defensive alignment by calling one of formations, you don't seem to be able to control individual players, so tackling seems to be a matter of getting lucky and having the offense run into one of your guys. There's no option for kicking a field goal, which is fine until you're facing a fourth down in the red zone and you realize your only option is to go for the first down. PocketSports Football lacks the depth of Real Soccer 2009 ( ), that's for certain.
Which is not to say that the game isn't fun, so long as you're willing to accept its limitations. I'm currently in the middle of a season—fight on, you New York Whateveryourcalleds—and I certainly find PocketSports Football a decent enough way to pass the time.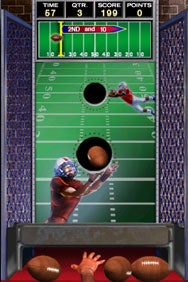 No, the best football game currently at the App Store—in the non-Mattel Football homage division, at least—is QB Pass Attack Football. Another offering from Skyworks, this game requires you toss a football through a couple of hoops—a scenario that will be familiar to anyone who's hung out an arcade, visited a carnival midway, or watched a Levitra ad. In Pass Attack's case, you've got two holes—designed to look like receivers' outstretched hands—and a rack full of footballs to toss at them. Touch a football to grab it, then slide your finger up the screen to hurl it at the target—it's challenging, but doable.
Pass Attack offers two modes of gameplay. The classic game gives you 60 seconds to toss as many footballs through the holes as your noodle arms allows. Tossing the ball through the nearest hole gets you seven points; the faraway hole is worth 30. A progressive version features four 60-second quarters in which you rack up as many points as possible, with bonuses for first downs and touchdowns.
Pass Attack is good casual fun, with a little strategy attached to it. (Do I rack up easy points with short, manageable throws to the nearest hoop, or do I go all Brett Favre and try for the long bomb?) The controls are easy to master, and the background music augments the game's frenetic pace. While Pass Attack logs the Top 10 scores for all players in both classic and progressive modes, it doesn't keep track of your own scores—I wish that it did. Still, in all my testing of football games, this was the one I found myself constantly reaching for.
If the Cardinals and Steelers want to save us all some time Sunday, they could do worse than settle their differences with QB Pass Attack. It may feature the only completed passes Matt Leinart gets to throw all day.
All the games reviewed here are compatible with both the iPhone and iPod touch. Jirbo's games run on any device with the iPhone 2.x software update. Other games require iPhone 2.2.
[Macworld.com executive editor Philip Michaels is making beef with barbecue sauce for his Super Bowl party.]