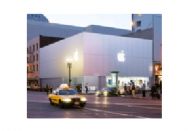 Everyone knows that the American (and more largely, the global) economy is in serious dire straits. But you wouldn't necessarily know it by walking into any of Apple's 250-odd retail stores. New data from Needham hardware analyst Charlie Wolf says that there was only 1.8 percent less foot traffic in the December quarter 2008 versus the end of year 2007.
But here's the rub: most of those shoppers are walking out empty-handed. Wolf notes that same-store revenue dropped 17.4 percent during the period, year-over-year. "Shoppers were not in a spending mood," Wolf told the financial magazine Barron's .
But the worst part is, wrote reporter Mark Veverka, that this malaise in Apple Stores "[is] a harbinger of depressing news for the entire electronics food chain."
Wolf told the magazine that he estimates Apple Stores averaged sales of about $4,700 per square foot in 2008 (the typical store is about 6,000 square feet), which he said is "undoubtedly the highest among retail chains in the country." Other old reliable mall stalwarts like Cheesecake Factory pale in comparison, coming in at around $920 per square foot.
Perhaps Apple will have better luck at one of its newer overseas locations, like Paris?
[via Alley Insider and Blogging Stocks]