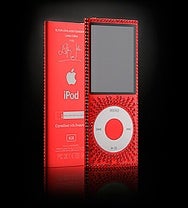 Here at MacUser, we know who our target demographic is and we know what they want. And we think it can best be summed up in seven words: Swarovski-encrusted Elton John-signed iPod nanos.
Nailed it.
Look, you're a discerning shopper, and as much as you like that iPod nano you got for Christmas, you're a little worried that it's falling short in the bling department. Maybe you should consider a trade-up that not only helps you, but helps others as well.
See, if you buy one of these Swarovski-encrusted Elton John-signed iPod nanos (I know, I know—still your beating heart), at least 12.5% of the price goes to the Elton John AIDS Foundation, which helps people around the world who are dealing with AIDS. As you might expect, they're a little pricier than your usual iPod nano: the 8GB goes for £400 (about $565) and the 16GB model runs £450 (~$636).
But hey, hey: crystals. And a laser-engraved Elton John signature. It pays for itself, friends. Oh, and did we mention that they're throwing in a copy of Elton's Rocket Man: The Definitive Hit CD with each and every unit sold? Because there's nothing like listening to "I Guess That's Why They Call it the Blues" on your crystal-garnished baby blue iPod nano.
The iPods start shipping out on February 9th, but you can pre-order now. As with normal iPods, they come with a one-year guarantee. Come on now—you don't want to be the only one on your block without one, right?
[via Gizmodo]