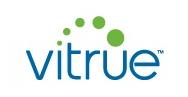 We know Apple and its products are on the tips of many people's tongues these days, but just how much so? A company named Vitrue has set out to gauge the impact of certain brands in the realm of social networking: i.e., how much they've permeated social media like Facebook, Twitter, Flickr, etc. Vitrue's now released its list of the top 100 most talked-about brands in the social arena.
For anybody who's spent time on any of the Internets, the results won't exactly bowl you over. Apple and its products secured several prominent spots on the list, with the iPhone topping the whole list. Apple itself followed closely behind in the "3" spot, neatly sandwiching CNN. The iPod is down in seventh place, after Disney, the Xbox, and Starbucks, and the Mac comes in a respectable 16th, even though it apparently lagged behind Dell and Microsoft.
Of course, it's really just a vicious cycle when you think about it: now people will just be talking about those brands even more, keeping them up there. Yep, the rich just keeping richer.