If doodling horns, glasses and scars on pictures of politicians in the Sunday paper is your idea of fun then Cartoonizeme from Portegno Apps would be a valuable addition to your iPhone or iPod touch. This slick little app allows you to add cartoonish effects to pictures of friends and relatives until your cheeks hurt from too much smiling.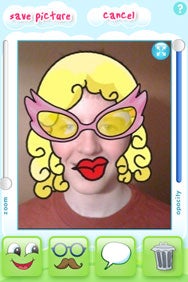 Adding a mustache to your mother-in-law (if she doesn't already have one) or giving Uncle John's pig some bright red lipstick is easy and fun and the result can be saved as a favorite or added to your camera roll. A help guide makes things clear and easy to understand with great visual examples and clear explanations.
Cartoonizeme misses very few features, though a few more hairstyles including a Mohawk and dreadlocks would be nice. I was surprised the app didn't offer a selection of beards or a variety of skin tones for noses and facial features. A tint feature provides some basic chameleon like abilities but overall it was less than useful. For the occasional finger painting faux-pas, a simple undo feature would add to the usability of this overall winner of an application.
Still, it's some of the best fun I've had since I bought my first black marker. And if the $1 price tag is too rich for your blood, Portegno offers a free lite version.
Cartoonizeme is compatible with any iPhone or iPod touch running the iPhone 2.1 software update.
[Kyle Bailey is "Da Big Cheeze" at E-Cubed Media Synthesis, an experience design firm in Vancouver, British Columbia.]