CalDigit on Monday introduced the CalDigit VR, a new external two-drive RAID system. It's priced starting at $499 for a 1.2 terabyte (TB) configuration.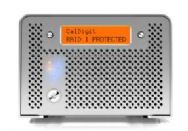 The CalDigit VR supports hardware-based RAID Level 0 and 1 configurations, and can also be used as a JBOD (Just a Bunch of Disks). The device features USB 2.0, FireWire 400, FireWire 800 and external Serial ATA (eSATA) interfaces, and sports a milled aluminum enclosure not unlike Apple's Mac Pro and Power Mac G5 chassis.
Inside, the CalDigit VR features an ambient temperature-controlled "smart fan," and the device comes with software that lets you management, monitor, run diagnostics on the system, e-mail notifications if something goes wrong, or handle firmware updates. A built-in orange LCD display provides additional information and can be customized with user-provided information.
A security lock is included, along with locking drive modules. And the drives themselves can be protected using the software's password protection feature.
CalDigit includes an eSATA extender in the box.