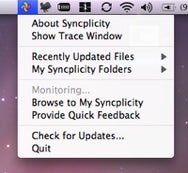 Looking for a good way of having your files accessible on multiple computers? MobileMe's an option, but if you're not looking for all the other bells and whistles (web pages, email accounts, etc.), there's now another player in the mix: Syncplicity.
Like competitor Dropbox, Syncplicity offers a free 2GB of storage space to sync between more than one of your computers. It's been in private beta for Mac users until recently, but it's now accepting sign ups for both Windows and Mac users.
Once you've signed up for an account, you can download Syncplicity's Mac client and use it to choose which folders you want to synchronize. The files in there will be uploaded to the cloud, where you'll be able to view them in your computer's web browser or even via the iPhone (though the icons they use are kind of suspiciously Windows-looking).
Syncplicity's Mac client is Intel-only, and it requires that you be running 10.5. If you decide that 2GB of storage isn't enough to handle your needs, you can updgrade to 50GB for $10/month or $100 for the year; $20/month and $200 for the year will get you 100GB of space.