Two apps just arrived on the App Store take two different approaches to staying in touch in our increasingly connected world.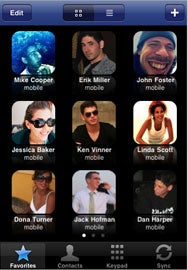 Easycontact from Tapinoma offers a way to exchange business card information via your iPhone. Using the $3 app, you can e-mail your own business card, another contact, or an entire group from within your address book. The app also allows direct device-to-device transmission if your recipient also uses Easycontact. Because the app uses the vCard format, Tapinoma says that your contact data will be compatible with other devices.
FacePhone from Ultimake helps you connect with others via both old- and new-school ways. The $3 app integrates your Facebook information with a dialer. FacePhone features a full contact list with thumbnail photos; use the contact list to jump directly to the Facebook profiles of your contacts. A one-touch update feature synchronizes photos of your FaceBook friends while a smart search button helps you find contacts by appearing when you scroll through your list.
Other apps of interest that were recently updated or added to the App Store include:
Read more…
Got an app you've just released to the App Store? Drop us a line.