Nikon on Tuesday took off the wraps on eight new Coolpix digital point-and-shoot camera models. Prices range from $109.95 to $399.95 depending on features.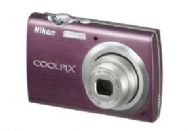 The S-Series line of cameras has been expanded with four new models — the S230, S220, S630 and S620. Each are available in a variety of colors and feature sleek body designs.
The S230, priced at $229.95, sports a 3-inch LCD touch screen display, write and draw functions, a 10.0-megapixel sensor and ISO 2000 capability. The S220 is priced at $149.95, and has a 2.5-inch LCD, 10-megapixel sensor, 3x optical zoom, "Smart Portrait" system and other features. The $279.95 S630 is a 12.0-megapixel camera with 7x optical zoom and 2.7-inch LCD display, 11 frames per second (FPS) continuous mode shooting, quick retouch and ISO 6400 capability. The S620 is a 12.2 megapixel camera with 4x wide zoom, 0.7 second startup, ISO 6400 stabilization, and scene auto-selector — it's priced at $229.95.
The P90, part of Nikon's flagship Performance Series, has 24x optical zoom, "super telephoto" lens (26-624mm in 35mm equivalent), a 3.0-inch vari-angle LCD display wit tilt function and anti-refection coating, and 15 frame per second shooting capability. Other features include 4-way VR image stabilization, ISO 6400 capability, electronic viewfinder, scene auto selector, quick retouch and distortion control. Coming in March, the P90 will cost $399.95.
The L100, L20 and L19 comprise new Nikon Life series digital cameras. The L100 is a 10.0-megapixel model with 3.0-inch LCD display, 15x optical zoom and 13 fps consecutive frame shooting. The L20 includes a 3.0-inch display as well, and has a 3.6x zoom lens, 5 color options for special effects and works on two AA batteries. And the L19 is an 8.0-megapixel camera with 2.7-inch LCD display, 3.6 zoom and other features, is also powered by two AA batteries. They cost $279.95, $129.95 and $109.95 respectively.