Nova media on Tuesday introduced the iCON 431, a new 3G USB modem with memory stick capabilities. The new device costs €168 (US$215.67).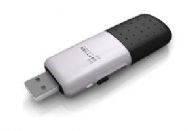 The iCON 431 plugs into an available USB port and enables you to connect to the Internet using 3G wireless data networks. It's compatible with HSUPA, 3G UTS, EDGE and GPRS networks — you'll need a SIM card from a cellular service provider, which has to be enabled for data transmission.
The card is placed into the device and "launch2net" software Nova media includes helps you set up and control your connection.