Alogriddim on Tuesday announced the release of Djay 2.3, an update to its DJ software for Mac OS X. A free update for Djay 2 users, Djay costs $49.99.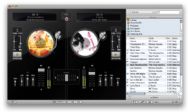 Djay enables disk jockeys to manage music in iTunes libraries using two "virtual" turntables, adjusting pitch, volume and special audio effects using on-screen controls that simulate real turntables. If you have a current-generation MacBook or MacBook Pro, Djay also supports a range of multi-touch gestures using the device's trackpad. Djay can also connect to an external DJ interface for additional control.
New to the 2.3 release is integration with Rogue Amoeba's Nicecast software. Nicecast makes it possible for DJs to broadcast their music as an Internet radio stream.
Djay combined with Nicecast — available for an additional $40 registration fee from Rogue Amoeba — lets you broadcast music to Live365, Shoutcast and Icecast, for example. You can play and mix music live, or enable the software's "automix" function to mix any playlist from iTunes automatically using DJ-style transitions.
Also new in the 2.3 release is a new power button for each turntable, a new Auto Select mode for the pre-cueing feature, which lets you listen to one turntable on your headphones while the other is playing through the Mac's main speakers.
System requirements call for a G4/1GHz or faster, 512MB RAM and Mac OS X 10.4 or later.