Life is unpredictable. One minute you're driving to the supermarket to get some milk; the next thing you know you're in a twisted piece of scrap metal that used to be your car.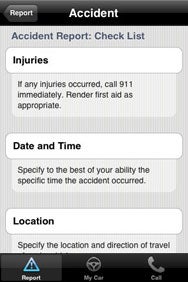 While Crash Report from Creative Coefficient isn't a magical Undo button for the mess you've gotten into, it can help you in dealing with the aftermath of such an accident.
When you launch the app, you're presented with a step-by-step checklist of details needed to file a comprehensive report. The list is very thorough, and covers everything from insurance information all the way down to snapshots of the wreckage. Once you've typed in all the necessary info, you can send the report to an e-mail address of your choice, where it will be converted to a PDF for downloading.
In addition to crashes, the app also covers theft and damage reports, so you might end up using this more than you think. Also included are one-tap calls to up to five different emergency contacts, as well as a built-in distress signal for you to flash an S.O.S if need be.
This definitely isn't an app you'll be using the first time you get it, but for a mere $2, it's an affordable way to always be ready for the times that you might need it. Just be mindful of the stares you'll get while using an iPhone next to a flaming vehicle.
Crash Report is compatible with any iPhone or iPod touch running the iPhone 2.1 software update.
[Kevin Ho is a film student based in Orange, Calif. In his spare time he practices sleight-of-hand and writes silly articles on his Web site.]