Palringo and Flutter both attempt to fill the void left by the iPhone's built-in Text app. While Text can send SMS messages, it's incapable of sending pictures via the Multimedia Messaging Service, or MMS.
Read more…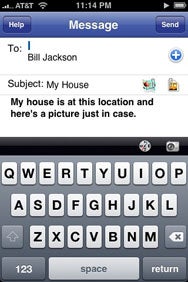 Flutter from Juice Wireless is a simple, pseudo-MMS iPhone app that lets you send your current location and images you've captured on your iPhone to anyone using a cell phone. I say "pseudo," because Flutter doesn't send the image to your recipients, it posts the image to a Web site and sends an SMS message with an embedded link to your recipients. If they want to see the image they'll have to do so on the Web.
The process of creating messages is just like sending mail via iPhone's mail app. You type in your recipient's name or phone number in a To field; if the name or number are in your address book, you'll see a filtered list of possible recipients. (Flutter is smart enough to only recognize mobile numbers.) You then put a subject in the subject field, and attach an existing image or take a new one. When you send the message your recipients receive an SMS message containing a link to the juicecaster.com site where your picture is hosted.
Unfortunately, messages you send look a lot like spam, as Flutter uses a Juicecaster.com SMS ID to send messages instead of your cell number. This also means that anyone receiving your messages can't respond directly to you because the message isn't sent from your phone number.
Palringo Limited's Palringo is technically the more versatile of the two programs, capable of sending text, images, and audio directly to any of your friends who have their own Palringo application on their mobile device. (Palringo is available for a multitude of mobile devices.) But if no one you know uses Palringo, your messages are sent via commercial IM services such as AIM, MobileMe, and GoogleTalk. So, in essence, Palringo is a specialized chat application, not really an SMS messaging application. In fact, it's impossible to send a text message from Palringo to a cell phone number.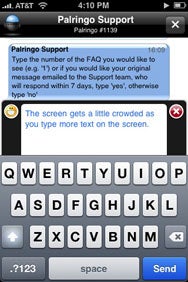 When you add your IM account to Palringo, you'll see a list of all your existing IM buddies. Text chat messages you send go through a Palringo server—yes, you have to sign up for an account—to your recipient. Images and voice messages sent from Palringo can be heard and seen by anyone else with a Palringo app, but if recipients use a service like AIM, they'll get a text message with a Web link to the audio or image.
Overall, I found Palringo to be a good application, but the interface for text messaging seemed cluttered and recording audio messages was a little goofy. Instead of pressing a record button, recording my message, and then pressing a stop button, I had to press and hold a button the entire time I was recording.
Both Palringo and Flutter are good applications that make a reasonable attempt to fix something that Apple should already have implemented on the iPhone. So, if you're desperate for something beyond basic text messaging, either program is worth a shot, but neither is a program I'm likely to continue using on my iPhone.
Flutter is compatible with any iPhone running the iPhone 2.1 software update. Palringo works with any iPhone or iPod touch running iPhone 2.2.
[ Jeffery Battersby is a (very) smalltime actor, IT manager, and regular contributor to Macworld.]