At a Glance
Expert's Rating
Our Verdict
Image editors can be scary applications, thanks to difficult learning curves and overly complex menus, toolbars, and palettes. Few of these apps are simple, and as useful as they are, even fewer are fun to use. Ohanaware's Funtastic Photos 1.0.3, on the other hand, is exactly what the name implies: It makes working with your photos fun, and does it in a dead-simple way. No image editor I've seen in the Mac market offers so much, with such ease of use, for such a small price.
Funtastic Photos packs a plethora of One-Click Styles and 40 image-enhancement tools into a single-window interface, offering practically limitless options for the "funification" of your images. You can import photos from your iPhoto albums or folders on your desktop, or you can capture them directly from your iSight camera. Once your image is in the editing window, you can start experimenting with all the effects and enhancements offered. You don't have to worry about applying multiple effects and not liking the results, because Funtastic uses non-destructive editing—you can undo effects you've already applied, or even rewind back to the original image.
Aside from some standard image-enhancement tools such as levels, exposure, white balance, brightness and contrast, crop, rotate, and sharpen, Funtastic Photos allows you to manipulate your images in other creative ways. For example, you can convert your image to greyscale, and then use a Focal Point circle to allow the color of the image to show through, as seen in the image below. Barrel distortion (simulating a fish-eye lens), over burn, motion blur, sketch, water drops, vignette, and reflections are just a few of the enhancements you can apply and adjust using sliders and drop-down menus. You can finish off your editing by adding date stamps, mattes, and a wide variety of borders ranging from brush strokes to simulated wood frames.
Most of the enhancements can be used in conjunction with one another to come up with truly cool-looking effects. And because the effects are applied instantly, you can experiment with multiple effects without having to wait around to see how the image will turn out. In fact, when my wife saw me testing the software, it wasn't long before I was booted off the computer and left to watch as she started editing dozens of images from her iPhoto library.
If the thought of all that fine-tuning is intimidating, you can choose from one of over 50 One-Click Styles. For example, with a single click you can give your photo a vintage sepia effect, the look of a soft-focused image, or the appearance of an old Polaroid snapshot. In addition to the stock One-Click Styles, any enhancements you make to an image can be saved as a new One-Click Style, so it's easy to apply multiple effects to multiple images.
I spent a few days playing around with all the effects, using a wide variety of images, and I found most of the effects to provide very nice results, although some—for example, a few of the border selections and themed One-Click Styles—were a bit disappointing.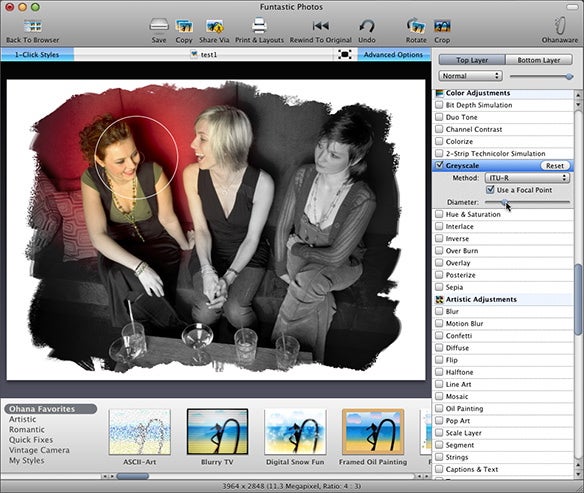 But perhaps my favorite features of Funtastic Photos come into play after you've tweaked your images and you're ready to output them. (After all, saving a single photo back into iPhoto isn't very fun, is it?) Clicking on the Print & Layouts button in the toolbar offers you 20 different options for saving or printing your images. You can select from among several simple multiple-image layouts; a photo wall (as seen in the image below); a single or double-fold greeting card; or a grid displaying all your images simultaneously.
For more elaborate results, you can choose to output a collection of photos in a Picture Collage. You select a target photo and a folder full of source photos; Funtastic Photos uses the latter to recreate the target image. The more source images you use, and the wider the variety of colors in those images, the better the results.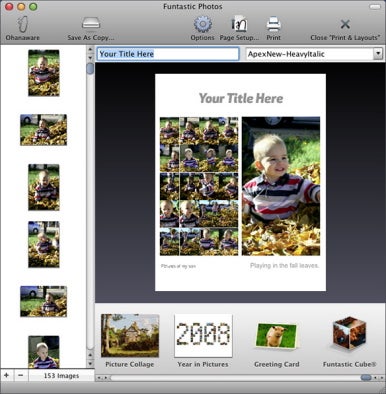 Another really cool option is the Funtastic Cube effect, where you choose six photos and place one on each surface of a cube. Funtastic Photos prints the cube flat, and you can then cut it out and fold it up to create a 3-D cube of images. I've done this by hand many times, but it's so much easier with Funtastic Photos. The only drawback is that unless you have access to a printer that handles paper larger than a standard letter-sized sheet, your finished cube isn't going to be very large.
Funtastic Photos makes it simple to share your new creations, including uploading them to popular social-networking services. Click on the Share Via button in the toolbar and you're offered a host of ways to do so, including adding your image to iPhoto; uploading it to Facebook, Flickr, Google Picasa, or your Apple MobileMe Gallery; sending it via e-mail; sending it to your phone via Bluetooth; or—my personal favorite—sending it as a Fun Card.
This last option, Fun Cards, brings back the old Apple iTools (now MobileMe) favorite, iCards. But unlike the iCards of the past, you aren't limited to choosing the image and selecting from among a handful of fonts. With Fun Cards, you can choose any font on your system, any image you have on your computer, and even the image you want to appear on the card's "stamp." Once you've finished entering a message, your Fun Card is attached to a new e-mail message in your default e-mail application, ready to send. I was saddened to see iCards go, so it's good to have this functionality back.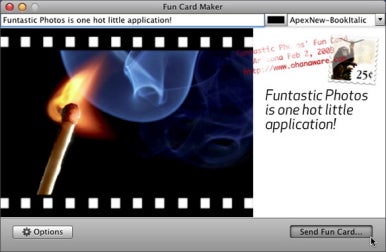 Funtastic Photos does have a few pitfalls. For example, using some of the effects on high-resolution photos (in my testing, those larger than 20MB or so) is a bit slow, though still perfectly useable. (The fact that your images are kept at full size and resolution when saved is of some comfort.) And some of the One-Click Styles produce, for lack of a better word, lame results. It's also difficult to use Funtastic Photos' preview area to see what a style will do to your image, because the preview uses a line-art Ohanaware logo instead of a photograph. Finally, customizing some of the enhancements can produce unpredictable results, and using sliders to choose the amount of an effect makes it difficult to perform precise adjustments; I'd like to see a numeric field next to each slider to manually enter a value. Thankfully, the program makes it easy to undo an effect and move on to the next one.
The list of effects and enhancements in Funtastic Photos is exhaustive when you consider that you can adjust each one individually. The program is perfect for scrapbookers, those who wish to customize their images before sharing on the Web, and users who want a little more in the way of image adjustment than iPhoto offers. With such a wide variety of tools, there's little reason for non-professionals to look at other options—Funtastic Photos has a little bit for everyone.
James Dempsey runs The Graphic Mac, which offers tips, resources, and more for Mac OS X, Adobe Creative Suite, and the Internet.