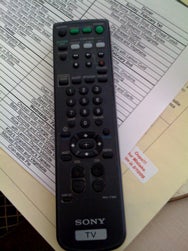 Earlier today, my wife was having lunch with her grandmother. I got a call on my iPhone because her grandmother's TV remote control wasn't working. They'd already replaced the batteries, so either the remote was broken or someone pushed the wrong button and it wasn't sending the right commands to the TV. But as with so much over-the-phone tech support, it's hard to know what the problem is without seeing the offending item.
So I asked my wife to send me a picture of the remote by clicking on the Home button (remaining on the call), launching the Camera app, taking a picture, selecting it in the Camera Roll, and clicking on the button in the lower left corner that gives you the option to use that photo as wallpaper, assign it to a contact, or e-mail it. She choose Email Photo, addressed the message to me, and fired it off.
A few seconds later, the photo was in my iPhone's inbox (and, after holding my finger down on the image and tapping on the Save Image button that appeared, in my Camera Roll as well). I took a look and suggested she try pressing the TV function button—problem solved.
Of course, the process might have been easier if the iPhone supported Multimedia Messaging Service (MMS), but you can't argue with results.