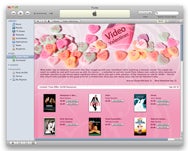 It's February, and you know what that means, right? No, Groundhog Day is over. No, not Flag Day in Canada (but thanks for remembering!). No, there's no leap day this year, sorry (you're not very good at this, are you?). It's that Hallmarkiest of Hallmark holidays, Valentine's Day. And yes, it's time to start planning a gift for that special person in your life. Apple has created a special Valentine's Day page on the iTunes Store to help you out.
The page is full of Valentine's Day promotions. From Frank Sinatra love songs to the movie Moulin Rouge, there is a little something for everyone.
If Sinatra isn't your cup of tea, then maybe a collection called Today's Love Songs—24 songs from John Legend, Usher, and Kelly Clarkson, among others (all but two tracks are in DRM-free iTunes Plus format).
Apple even has some Chet Baker, one of my personal favorites, as well as romantic-themed audiobooks, podcasts, and TV show episodes.
You'll also find iPhone apps such as Candy Hearts, iFlirt, iDesire, Love Quotes and iPropose. iPropose lets you send your marraige proposal over the iPhone with a "Yes or No" option—I'm lucky that app didn't exist when I met my wife, or I might still be single.