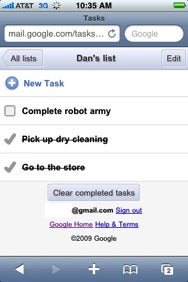 As those smarty smartypants over at Google say, there's a lot to be said for writing stuff down on old-fashioned paper. I mean, it usually takes less time and effort to write even down the shortest of two-word reminders on a piece of paper than it does to whip out your iPhone and fingertap it into the Notes application, or even to send it as an email to yourself.
For some time now, Google's own task management system—cleverly named "Tasks"—has been available as a part of Gmail (you have to add it via Gmail Labs), but it hasn't been available in the mobile version. All of that changed yesterday when Mountain View kicked the system live. You'll get a simplified list that's properly formatted for the small screen and you can add, edit and delete tasks with ease and—dare we say—flair.
According to the Official Gmail blog: "A number of Googlers have told us that with this new mobile UI they've finally scrapped the paper task management that they never really liked but couldn't ever beat."
I'm not 100 percent convinced that I'll make the switch, but at least now I know that there's a pretty easy way to go about it.
[via TUAW]