MIMO Monitors has announced the release of its UM-710 and UM-740 models in the United States. The 7-inch LCD displays cost $129.99 and $199.99 respectively.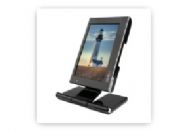 Both displays connect to a host Mac or PC using USB 2.0 — using DisplayLink technology — freeing up the device's monitor port. The 7-inch displays are suitable as secondary or tertiary displays, according to the manufacturer, designed for uses like instant messaging and e-mail, video gaming widgets, stock tickers or even to hold palettes in Photoshop.
Both systems feature 800 x 480 pixel resolution, weigh in at 1.3 lbs, and sport 350 cd/m2 brightness and a contrast ratio of 400:1. They come with detachable stands that enable you to position the displays in either landscape or portrait orientations.
The difference between the two monitors is primarily the presence of touchscreen support on the UM-740 (the 740 also features webcam capabilities, a microphone and audio in/out passthrough).
Mac users should be warned that the touchscreen capabilities of the UM-740 are not supported on Mac OS X using the factory-supplied software drivers. MIMO acknowledges the issue and alludes to an unsupported third-party driver option that costs an additional $30.