Print from EuroSmartz is a nifty but limited utility that enables you to print Web pages, photos, and contact information from your iPod touch or iPhone. It consists of two programs: one that you install on your mobile device as you would any other app, and another, called WePrint, that you download from the EuroSmartz Web site and install on a Mac or PC. With WePrint running, you can print from any iPod touch or iPhone that can establish either a Wi-Fi or cell network connection to the host computer.
Print is limited by the the lack of a cut-and-paste capability in Apple's mobile devices. If there's a Web page you want to print, you literally need to write down or remember the URL and manually input it into the address bar of Print's Web browser. Another workaround is to use Print's built-in browser when you anticipate you might want to print from the Web. Print's browser is solid but not quite as robust as the built-in version of Safari. Another drawback is that while you can create bookmarks in Print's browser, you can't import your Safari bookmarks directly into Print.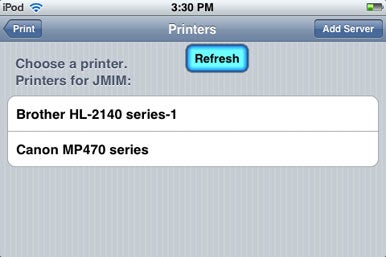 With photos and contact info, the process is much more straightforward: you have direct access to both the iPhone or iPod touch's photo library and your contacts from Print; you can select those you want to print without leaving the app. You can even pick multiple photos or contacts to print, choosing from among whichever printers are connected to the host Mac.
While selecting multiple contacts and photos to print is a breeze, each item selected prints on a single page. This is fine for photos, which print at a default width of 5.98 inches (easily adjusted in the WePrint preference pane), but for contacts, the result can be an enormous waste of paper. When printing Web pages, the result can also often be poor, as there's no way to adjust font size. Many times I printed out Web pages that were easily readable on both a Mac and on an iPod touch, but were rendered in such small type by my printer that they were unreadable.
Read more…
There is also a workaround for the Web printing issue—in the WePrint preferences page, you can elect to print to a file. When you do this, WePrint creates and opens the Web page as a file in Preview. You can then print from Preview on your desktop after you make any adjustments, if necessary.
Remote printing, tested on an iPhone on the 3G network, worked well. To use remote print via the cellular network, you need to tell your router to forward WePrint's port (8080 by default) to the Mac running WePrint. In the iPhone, add a server with your home Mac's IP address (or host name, if you use a service like dyndns.org), server port (8080), and optional nickname. As long as WePrint is running on the remote Mac, and port 8080 has been forwarded, you'll be able to print documents via the cellular network. Just keep in mind that EDGE will be much slower than 3G, and some files are quite large, so don't expect lightning-fast response times.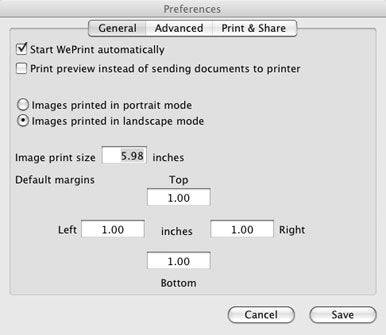 There are some very positive aspects to Print. Setup of the desktop program, WePrint, is simple, and the program immediately detected my available printers. The mobile app seamlessly recognized all available photos and contacts, and, as mentioned earlier, the embedded Web browser works fairly well, although it seems more prone to crashes than Safari. In a pinch, you can print out anything you can see on your iPhone or iPod screen using Print, just by taking a screen shot and then printing the screen shot as a photo.
EuroSmartz should also be commended for providing clear and ample documentation that accompanies the mobile app; you can also find an FAQ on its Web site. EuroSmartz doesn't make any claims for Print that the application doesn't live up to.
In addition, EuroSmartz has streamlined the app's interface and added some significant new features to the Web browser during its evolution from version 1.0 a few months ago to the current 2.5 release. Print is only a partial printing solution, but it's the only iPod touch/iPhone app in its class. If you recognize its limitations (and that EuroSmartz appears dedicated to adding new capabilities to the App as quickly as possible), it may be a prove a very useful addition to your mobile device.
Print is compatible with any iPhone or iPod touch running the iPhone 2.1 software update. WePrint Server software requires OS X 10.4 or 10.5 on an Intel- or PowerPC-based Mac or, if you're using a PC, Windows XP or Vista. (Some Windows configuration may be required.) A network connection between your iPhone and the print server computer is also required.
[Jeff Merron is a freelance writer and editor living in North Carolina.]